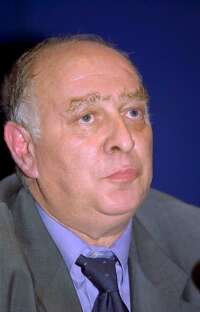 Mr. Pompous tries to run the league but can't even run his own club
There were suggestions that these were wild exaggerations but there is no doubt that the loss of the television deal is hitting some clubs very hard indeed. We have already seen serious problems at clubs such as Bury, Lincoln City and Swindon Town. Clarets Mad in fact bought seats in the away end at Gigg Lane to help them in their hour of need.
As the Football League prepare to go to court to try and get the money owed to them we now see a First Division club go into administration. Now let's get something clear right away, I do not want to see any club disappear and hope that all 72 of the Football League clubs survive through this period. Having said that I had to laugh when I heard which First Division club it was, Bradford City.
This is that massive club from West Yorkshire with the Premiership pedigree or so says their pompous chairman Geoffrey Richmond. He is blaming the collapse of ITV Digital and nothing else for the problems at Valley Parade although I think it is about time he started to look at the way he has run his own club.
They are lumbered again with paying Benito Carbone £40,000 per week and they are lucky that all the other 'Fancy Dans', and these are Richmond's words not mine, are long gone.
They somehow survived their first season in the Premiership and so Richmond went crazy paying silly money for Benito Carbone, Dan Petrescu, David Hopkin and Lee Sharpe and then went one better and brought in Stan Collymore. The inevitable relegation came and they have done their best to get rid of as many of the big earners as possible but Carbone is like the proverbial bad penny.
Richmond joined the Football League board at the beginning of the season along with the Coventry chairman Bryan Richardson. Once he was representing us he then went behind our backs and tried to set up the Phoenix League along with Richardson who has since been ousted at Coventry.
It was Richmond who took it upon himself to try and involve Celtic and Rangers in the Phoenix League and it would come as no surprise if it was him behind all the moves last weekend.
I feel very sorry for the supporters of Bradford City who will now be facing an uncertain future as the administrators try to sell the club but I still can't stop laughing that it is Mr. Pompous who becomes the first chairman in Division One to see his club go into administration.
Let us hope he fades away now and let us hope that someone who is concerned for the entire league and its future replaces him on the Football League board.