Even before our last game against Coventry we had been linked with a left back in Darlington's Paul Heckingbottom and that is a position where other names have been coming up.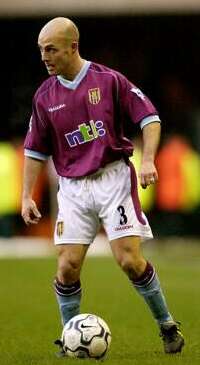 Alan Wright
The first of them is Aston Villa's 30 year-old left back Alan Wright who has been told by manager Graham Taylor that he is no longer part of the plans. Wright, from Ashton-under-Lyme started his career at the seaside with Blackpool and had made 98 league appearances before being snapped up by Kenny Dalglish at Blackburn just after his 20
th
birthday.
He had cost £400,000 but in three and a half years there played just 74 league games, losing his place to Graeme Le Saux when he arrived from Chelsea. He moved again, this time to Aston Villa although by now his value had soared and they had to part with £1 million.
It was October 1995 when he signed and he has been a huge success there and is just one appearance short of 250 in the Premiership for them. He is not a prolific scorer from the left side of the defence and his five goals at Villa can be added to just one at Blackburn.
Wright isn't out of contract and would cost a fee but Taylor is looking to offload, Wright must be looking to go, and the fee is expected to be nominal.
If Barnsley's left back Darren Barnard joined, as some rumours have suggested, then don't expect to have to pay the sort of fee that has been mentioned elsewhere. There would be no fee for Barnard whatsoever, he is a free agent after being released by the South Yorkshire club the day after their relegation was confirmed.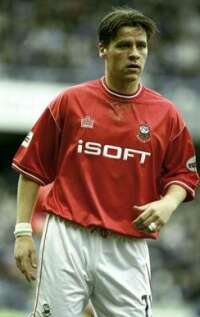 Darren Barnard
Barnard is German born but has won seventeen international caps for Wales. Now 30 he was a £100,000 signing for Chelsea from Wokingham Town and played a total of 29 league games for them. There was a short loan spell at Reading but then in 1995 he was sold to Bristol City for £750,000. He immediately established himself in the Bristol side but was there less than two years before Danny Wilson became the second manager to pay £750,000 for him taking him to Barnsley in readiness for their Premiership season.
He has been virtually a fixture in the side during his five years at Oakwell and has made 180 league appearances, either at left back or on the left hand side of midfield, and also scored 28 goals. Many of his goals have come from the penalty spot or from free kicks outside the box. In both games against the Clarets this season, both draws, he scored with long range free kicks.
Barnard is currently out of work having been released by Barnsley who are now in the 2nd Division and a move for him is very much a possibility.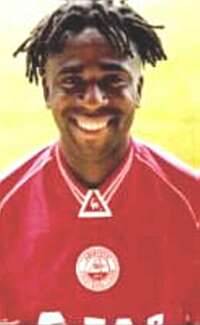 Eugène Dadi
The least likely of links this week has been that of Aberdeen striker Eugène Dadi. He had a trial at Burnley in January 2001 and was due to play in a reserve team game. Micky Mellon was tasked to pick him up from a local hotel only to be told that Dadi had rushed off back to France. An official statement suggesting that he couldn't get international clearance was made.
There were all sorts of rumours at the time and then the following summer that the Toulouse striker would be back but after a brief trial he signed for Aberdeen at the start of the season and what a success he has been. The target of the boo boys at Pittodrie he struggled and it took him eight games to notch his first goal. That didn't bring about a rush of goals though and despite reading somewhere that he had scored a pan full of goals nothing could be further from the truth. In 28 Scottish Premier League games Dadi scored just five times.
This one looks nothing more than an agent touting his client, knowing full well that he is going to be on his way out at Aberdeen. All the clubs linked with him last year are suddenly linked again. Don't expect Eugène Dadi to be a Claret next season.