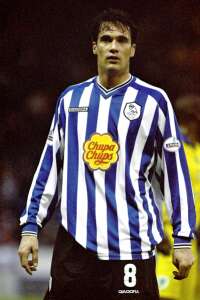 Gerald Sibon
The latest forward to be under the Turf Moor microscope is Sheffield Wednesday's Gerald Sibon. The 6ft 3ins Dutch striker is believed to be unsettled at Hillsborough and could well be a player that would interest Stan. Wednesday are struggling financially and would presumably be welcome to any offers for their players.
However with an important, very important in my view, Worthington Cup semi-final coming up it is unlikely they would consider a bid just at the moment for any player. A semi-final win would give them a major cash boost and so it is likely they will await the outcome before selling any players.
Sibon joined Wednesday from Ajax Amsterdam in the summer of 1999 and has had something of a love hate relationship with the Hillsborough crowd. The band playing South Yorkshire fans have at times delighted in his skills but have at other times turned on him in a way many foreign players have been at Hillsborough.
Since joining Wednesday he has made 89 league and 16 cup appearances scoring a total of 30 goals. Out of the total of 105 appearances 29 have been as a substitute. He cost Sheffield Wednesday £2 million when they signed him, any wonder they are in the red, but he would command a much smaller fee now.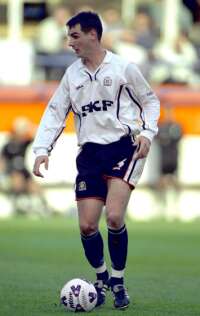 Mattthew Spring
A surprise link is with Luton Town midfielder Matthew Spring. We have been informed by our contacts in Bedfordshire that the Clarets have actually made a £250,000 offer for the midfielder but have been turned down.
Spring has been at Luton since school and made his league debut for the Hatters at the age of 17 in September 1997 as a sub. He was sent off on his first start in the following month.
Now 22 he has played over 150 league games for Luton and has been a regular in the side this season, and on Boxing Day scored the winning goal at Oxford.
There has been no confirmation from anyone at Turf Moor though, but that is usually the way Stan conducts his transfer business.