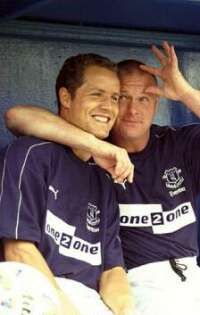 With Alex Cleland on the Everton bench
Even though today is match day for most clubs the news from Turf Moor has dominated the football world as the former England international signed on the dotted line and joined his new team mates in training.
We did say earlier that we wouldn't give you any details of his career but you have asked us for some more information so here is a Gazza profile (courtesy of Sky Sports).

We have followed that with the way the news was broken elsewhere that GAZZA IS NOW A CLARET.

And of course we have some more photographs for you of Burnley's new signing.

Gazza will be at the Turf tomorrow to watch the game against Preston and is expected to make his debut in the home game against Bradford City on Wednesday.
PAUL GASCOIGNE PROFILE
1967: Born Gateshead, 27th May.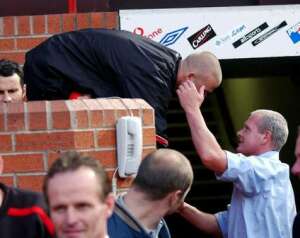 With David Beckham
1983: Joined Newcastle as an apprentice.
1985: Football League debut for Newcastle as substitute against QPR at St James' Park.
1985-88: Made 106 League and Cup appearances for Newcastle, scoring 22 goals.
1988: July 18 - joined Tottenham for £2million. September 3 - made debut at Newcastle in 2-2 draw. September 14 - made England debut as substitute against Denmark at Wembley. England won 1-0.
1989: April 26 - scored first goal for England after going on as substitute in 5-0 World Cup qualifying win over Albania at Wembley.
1990: Starred in Italia 90 World Cup finals as England reached semi-finals, only to lose to West Germany on penalties. Gascoigne's tears in the match earned him instant worldwide fame.
1991: May - ruptured cruciate ligaments in right knee in FA Cup final against Nottingham Forest. Out of football for 16 months (three operations), which delayed transfer to Italian side Lazio. October - damaged knee again in nightclub accident.
1992: May - passed tests set by Lazio on knee and completed £5.5million move from Tottenham.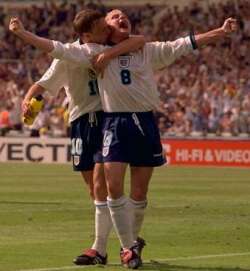 Celebrating his goal for England against Scotland in Euro 96
1992: September - made debut for Lazio against Genoa in Rome.
1993: December - reported back to Rome after a Christmas break with a thigh strain suffered getting out of bed.
1994: April - broke leg in training-ground accident, putting him out of the game for a year.
1995: June 3 - made first England appearance for 15 months as substitute in 2-1 victory over Japan at Wembley. Flew to Glasgow after match and announced he was joining Rangers.
1996: Helped Rangers win Scottish title for eighth time and named Scottish player of the season. June - played starring role in England's run to semi-finals of Euro 96.
1997: Returned from injury to guide Rangers to record-equalling ninth Scottish League title. Welcomed back into England fold. July, signed new three-year deal with Rangers to tie him to club until 2000. November, sent off in Old Firm match for violent conduct.
1998: January - apologised publicly after flute-playing gesture while warming up as substitute during Rangers' 2-0 defeat by Celtic. Given severe warning by Scottish Football Association and warned about future conduct.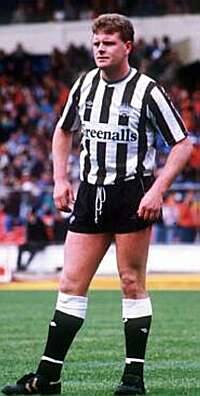 At Newcastle
March: Joined Middlesbrough for £3million. May, receives final warning from England coach Glenn Hoddle for having too many nights out. Claims he has enough time to prepare for World Cup.
May 31: Disappointing warm-up campaign ends with him being left out of Hoddle's World Cup squad.
August 4: Left out of Hoddle's first training camp of new season.
October 11: Admitted to hospital to deal with stress and drink problems.
October 26: Makes first public appearance after two weeks in hospital and vows to give up drinking.
2000: July - Joined Everton on a free transfer.
2002: January - Outstanding in FA Cup defeat of Leyton Orient, setting up three goals in 4-1 fourth round success.
March: After just 18 Premiership starts for the Goodison side, and 14 appearances as a substitute, agrees move to Burnley.
Gascoigne sets Burnley target
Interview with BBC Sport
Paul Gascoigne is aiming to propel his new club Burnley into the Premiership next season.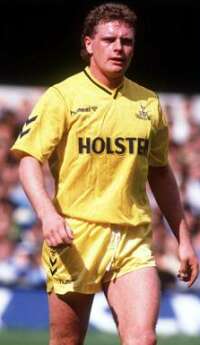 And at Spurs
"It looks tough for us to win the First Division outright but if we have to get out by going through the play-offs, then we'll have to do it that way," he told BBC Radio Five Live.
"Burnley is a sleeping giant club that needs to be in the Premiership," added Gascoigne, who has signed from Everton until the end of the season.
"We've got to take each game like a Cup Final and get ourselves in the Premiership - hopefully I can help with the experience I've got."
Gascoigne has already trained with his new team-mates and expects to make his debut against Bradford on Wednesday.
"They seem a good bunch of lads and there is great team spirit which is what you need.
"If you can take that onto the park, then you are halfway there anyway."
Gascoigne says he enjoyed playing for Everton but playing first team football is a priority.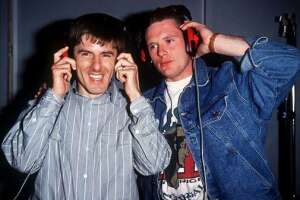 In the recording studio with Peter Beardsley
"I wasn't playing at Everton so I was obviously a bit down and if you're not going to get played, then you have to look at other options - I need to be playing.
"Everton have been a fantastic club for us, they really have, but now I just want to get on the pitch for Burnley.
"We'll sit down at the end of the season and see what happens then."
Gascoigne said he was disappointed that Everton manager Walter Smith had been sacked but said it had not had a bearing on his decision to leave Goodison Park.
"I was very upset at the way he had to go after all he had done for the club considering he wasn't given a penny to spend," said the ex-England international.
"He is a friend of mine and I was upset to see him go."
Gascoigne joins Burnley promotion push
from onefootball.com
Burnley have signed former England midfielder Paul Gascoigne from Everton to boost their bid for promotion to the Premiership. "The deal is to the end of the season, then we'll sit down and discuss the future," said Burnley chairman Barry Kilby.

Gascoigne has started just one game since the beginning of February and the replacement of Everton manager Walter Smith with David Moyes appears to have persuaded him to leave.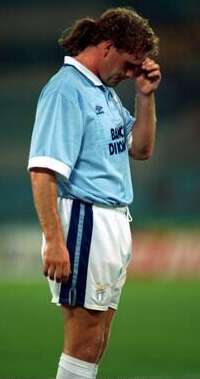 With silly haircut at Lazio
"We were making enquiries for him, but he was very loyal to Walter Smith," Kilby went on. "However, when Smith left Everton there was a chink of light for us."
Gascoigne is expected to make his debut against Bradford City on Wednesday and Kilby hopes the arrival of the 34-year-old will generate interest in the club, as the signing of Ian Wright did two years ago.
"It will be like Ian Wright with extra people coming in to see someone of Paul's quality playing for Burnley," he explained.
Gascoigne joined Everton as a 33-year-old on a two-year deal in July 2000 after a torrid spell at Middlesbrough.
It was the second time that Smith had signed the midfielder and Everton fans were hoping he would be able to reproduce the form that made him such a favourite at Ibrox with Rangers.
But 2000-01 was not kind as injuries ruined his season. Gascoigne only played two first-team games between October 2000 and April 2001, when he suffered a hamstring injury in a reserve game against Sunderland.
He returned to the fray in a friendly against Preston North End in July 2001, before being offered a chance to play in the United States by Miami Fusion.
Gascoigne drops in on Clarets
from skysports.com
Paul Gascogine has completed his move to Division One side Burnley.
The former England man has signed until the end of the season after telling new Everton boss David Moyes he wanted to leave Goodison Park.
The 34-year-old will not be able to make his debut in Sunday's Lancashire derby with Preston, but will be paraded before the fans.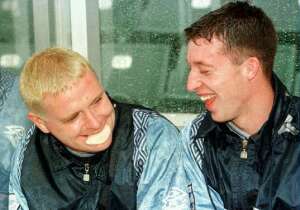 In a quieter moment with Robbie Fowler
His first appearance for his new club is expected to come at Turf Moor on Wednesday when Bradford City are in town.
Gascoigne was first linked with the Clarets a couple of weeks ago, but insisted he was happy to stay with Everton - until Walter Smith was sacked.
Burnley chairman Barry Kilby told Sky Sports News: "We were making enquiries for him - but he was very loyal to Walter Smith. However, when he left Everton there was chink of light for us.
"The deal is to the end of the season then we'll sit down and discuss the future."
"We've just missed the deadline (for tomorrow's home game with Preston) but he will be at the match - and he'll be playing for us at Bradford on Wednesday evening."