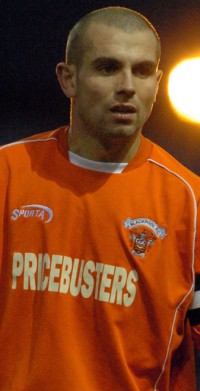 Mark McGregor - set to join Port Vale

Late yesterday Chris Brass, who looked all set for the assistant manager's job at Southport, returned to the Football League and signed for Bury whilst today defender Mark McGregor is finalising a deal that will see him join Port Vale.



Brassy left York recently after almost five years there, firstly as player then as manager, and it was thought that he would remain at Southport where he had been playing on loan. But earlier this week Lee Turnbull was appointed assistant boss and yesterday Brass signed for Bury for the rest of the season.



Bury boss Chris Casper said, "Chris is a very good professional footballer; he will give us the attitude I am looking for and will add his experience and motivation to the squad."



Today, another former defender Mark McGregor is set to sign for Port Vale after falling out of favour at Blackpool. He was appointed club captain last season under Colin Hendry but a change of manager has brought with it a change of fortune for Mark.



McGregor has been told he won't play for Blackpool again and is currently in advanced talks with Port Vale manager Martin Foyle and the League One club are expected to take over the remainder of his contract until the end of this season.