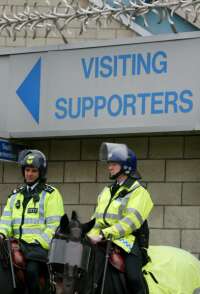 Millwall - Burnley fans will be able to go after all
Along with five other clubs we were initially banned from the game this season with the decision having been made following the troubles after Millwall's play off defeat against Birmingham City last May.
Matches were put into different categories and this meant no away supporters for six of their games, these being against Leicester, Nottingham Forest, Portsmouth, Stoke and Wolves and ourselves.
This news was revealed on 11th June last year and in what can only be described as a dreadful knee jerk reaction our club immediately placed a ban on Millwall supporters visiting Turf Moor although to their credit they then did nothing to stop them by allowing cash admission at the turnstiles.
We are aware that the Millwall supporters have worked tirelessly to get the bans overturned, and indeed to make those visiting supporters allowed to travel feel welcome, but the decision was made by the Metropolitan Police and it has been a difficult task.
But we do have the Millwall fans to thank for the fact that we can now go there in just under three weeks time, it is their behaviour that has brought about the change.
Today the Millwall club announced that a decision had been reached to allow up to a maximum of 500 Burnley supporters into the ground for the game on 4th March. Account was taken of the excellent behaviour of Millwall supporters both home and away this season and the fact that it is a midweek fixture with a full league programme.
The club also goes on to say that this move augers well for next season when it is hoped there will be no away fan ban in force for any club at the New Den or for Millwall supporters travelling away. This though would depend on the continuation of their impeccable behaviour.
There is no news as yet as to how Burnley will allocate these tickets but we will bring you the news just as soon as possible.