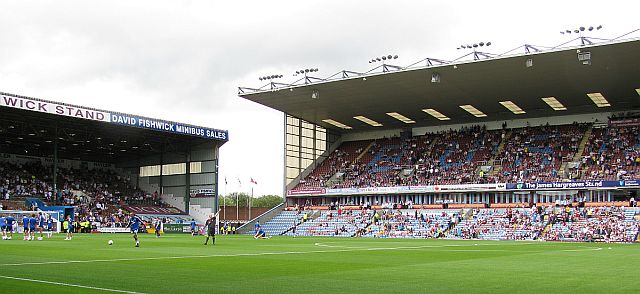 Ahead of that game new manager Michael Appleton called for peace after the disruptions of the previous Saturday when the owners showed their faces as they stepped out of their Rolls Royce cars.
They left early and weren't bothering with the Brighton game and Appleton reckoned that was a good thing. What a pity Mrs Desai and her entourage weren't there, and to the end, as Brighton equalised with a 97th minute penalty.
Blackburn are one of just five Championship clubs through to the fifth round of the FA Cup. Millwall got there on Friday, beating Aston Villa, a club who don't just lose to Premier League clubs. Barnsley and Middlesbrough joined them on Saturday and Leeds made it five yesterday but five will become six when Huddersfield and Leicester meet again in a replay next week.
There seemed to be some surprise at Millwall opting to play on the Friday rather than Saturday with the game not televised but the club explained the situation. On the Saturday there was a demonstration being held against proposed cuts to vital services at Lewisham Hospital.
Millwall Football Club are supporting the campaign against the closures of the A&E department, maternity ward and the children's wards as well as a range of elderly care departments.
It's so easy to have a go at Millwall because of incidents that never seem to be so far away, and there was another on Friday apparently as a Mr Scholes, an assistant referee apparently, was targeted. But there should be real praise for the club for getting behind the community in this way.
Because of the cup and the reduced number of league games we were able to retain 8th place despite the defeat against Birmingham.
The late goal was probably no surprise given that there were three goals scored in all five games played and that it went Birmingham's way too with only one home win recorded, that at Ashton Gate where bottom club Bristol City beat Ipswich. One more goal and they'd have moved off the bottom and above Barnsley on goal difference.
Finally congratulations to Watford's Matej Vydra. The 20-year-old Czech Republic international who is on loan to Watford from parent club Udinese, is in sensational goalscoring form. He scored twice in their 3-0 win at Nottingham Forest.
Since their draw at Burnley they have won five out of six games. Vydra has not only scored in five of those games but has scored twice in five of them. Those recent goals have now taken him to 18 for the season leaving him behind just Glenn Murray of Crystal Palace and our own Charlie Austin.
The latest results are below along with the usual stats and the next fixtures.
The Results
Tuesday 22nd January

Blackburn Rovers 1 Brighton & Hove Albion 1

Saturday 26th January

Bristol City 2 Ipswich Town 1

Nottingham Forest 0 Watford 3

Burnley 1 Birmingham City 2

Wolverhampton Wanderers 1 Blackpool 2

Charlton Athletic 1 Sheffield Wednesday 2
The Stats

Biggest Win

Watford 3-0 v Nottingham Forest (away)

Total Goals Scored

17 (6 home - 11 away)

Player Scoring Most Goals
2

Tom Ince (Blackpool)
Matej Vydra (Watford)

Highest Attendance

20,732 - Nottingham Forest v Watford

Lowest Attendance

11,576 - Burnley v Birmiingham City

Total Yellow Cards

18

Total Red Cards

2

Most Cards in a Game

Blackburn Rovers v Brighton & Hove Albion (6Y) Ref: Bobby Madley
Leading Goalscorers (League Only)

22

Glenn Murray (Crystal Palace) - includes 7 penalties

20

Charlie Austin (Burnley) - includes 3 penalties

18

Jordan Rhodes (Blackburn Rovers) - includes 2 penalties, 2 with Huddersfield Town
Matej Vydra (Watford) - includes 2 penalties

16

Chris Wood (Leicester City) - 11 with Millwall

15

Luciano Becchio (Leeds United) - includes 4 penalties
Tom Ince (Blackpool) - includes 3 penalties

13

Marlon King (Birmingham City) - includes 3 penalties
David Nugent (Leicester City) - includes 1 penalty

12

Troy Deeney (Watford) - includes 2 penalties

11

Craig Mackail-Smith (Brighton & Hove Albion) - includes 2 penalties

10

DJ Campbell (Ipswich Town)
Sylvan Ebanks-Blake (Wolverhampton Wanderers) - includes 2 penalties
Scott McDonald (Middlesbrough)

9

Sam Baldock (Bristol City) - includes 4 penalties
Steven Davies (Bristol City) - includes 2 penalties
Billy Sharp (Nottingham Forest) - includes 2 penalties

8

Sone Aluko (Hull City)
Craig Davies (Bolton Wanderers) - includes 1 penalty, 8 with Barnsley
Lukas Jutkiewicz (Middlesbrough)
Theo Robinson (Derby County)
Hat Tricks
Date

Player & Game

01/09/12

3: Pete Whittingham - CARDIFF CITY v Wolverhampton Wanderers

15/09/12

3: Charlie Austin - BURNLEY v Peterborough United

22/09/12

3: Glenn Murray - CRYSTAL PALACE v Cardiff City

22/09/12

4: Craig Davies - Birmingham City v BARNSLEY

23/09/12

3: David Nugent - LEICESTER CITY v Hull City

29/09/12

3: Emile Sinclair - Hull City v PETERBOROUGH UNITED

02/10/12

3: Charlie Austin - BURNLEY v Sheffield Wednesday

23/10/12

3: Marlon King - Millwall v BIRMINGHAM CITY

06/11/12

3: Glenn Murray - CRYSTAL PALACE v Ipswich Town

17/11/12

3: Jordan Rhodes - Peterborough United v BLACKBURN ROVERS

12/01/13

3: Chris Wood - Bristol City v LEICESTER CITY
Disciplinary Record (League and Cup)

Club

Y

R

Y

R

Club

Y

R

Y

R

League

Total

League

Total

Barnsley

38

1

45

2

Huddersfield Town

51

4

59

4

Birmingham City

42

3

46

3

Hull City

32

1

35

2

Blackburn Rovers

39

0

44

0

Ipswich Town

35

0

37

0

Blackpool

37

0

39

0

Leeds United

46

2

56

2

Bolton Wanderers

52

1

56

1

Leicester City

31

1

33

1

Brighton & Hove Albion

41

1

46

1

Middlesbrough

36

0

46

0

Bristol City

38

0

41

0

Millwall

49

2

54

2

Burnley

52

2

60

3

Nottingham Forest

47

4

47

5

Cardiff City

48

2

51

2

Peterborough United

43

1

46

1

Charlton Athletic

43

1

44

2

Sheffield Wednesday

50

1

56

1

Crystal Palace

39

2

50

2

Watford

51

4

54

4

Derby County

35

1

36

1

Wolverhampton Wanderers

33

2

37

2
Highest and Lowest Attendances

Highest

Lowest

Att

Fixture

Att

Fixture

33,010

Derby County v Nottingham Forest (19/01)

5,435

Peterborough United v Bristol City (18/09)

28,707

Nottingham Forest v Derby County (30/09)

5,633

Peterborough United v Blackpool (01/12)

28,595

Wolverhampton W v Ipswich Town (29/12)

5,997

Peterborough Utd v Blackburn Rovers (17/11)

28,582

Sheffield Wednesday v Leeds United (19/10)

6,188

Peterborough United v Millwall (21/08)

28,229

Middlesbrough v Sheffield Wednesday (09/11)

6,214

Peterborough United v Hull City (19/01)

27,437

Derby County v Sheffield Wednesday (18/08)

6,348

Peterborough Utd v Huddersfield Town(23/10)

26,727

Brighton & Hove Albion v Watford (29/12)

6,600

Peterborough Utd v Bolton Wand (23/12)

26,684

Brighton & HA v Nottingham Forest (15/12)

6,612

Peterborough Utd v Middlesbrough (08/12)

26,670

Nottingham Forest v Leeds United (26/12)

7,339

Peterborough Utd v Barnsley (01/01)

26,598

Sheffield Wed v Bolton Wanderers (22/09)

8,088

Barnsley v Bristol City (01/09)
The Next Fixtures
Tuesday 29th January

Barnsley v Millwall

Bristol City v Watford

Wednesday 30th January

Huddersfield Town v Crystal Palace

Thursday 31st January

Leicester City v Wolverhampton Wanderers

Saturday 2nd February

Birmingham City v Nottingham Forest

Leeds United v Cardiff City

Blackburn Rovers v Bristol City

Millwall v Hull City

Blackpool v Barnsley

Peterborough United v Burnley

Crystal Palace v Charlton Athletic

Sheffield Wednesday v Brighton & Hove Albion

Derby County v Huddersfield Town

Watford v Bolton Wanderers

Ipswich Town v Middlesbrough