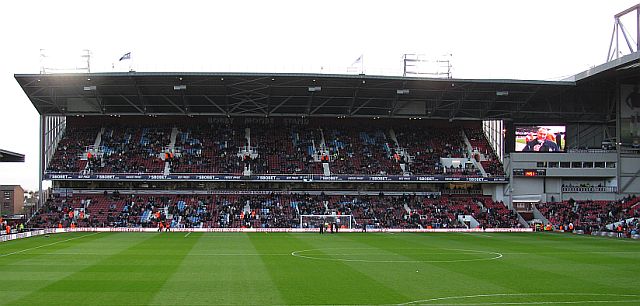 West Ham will host the big promotion clash on Saturday
Sam Allardyce was flabbergasted that his West Ham side hadn't won at Burnley at the weekend but he was celebrating a win at Peterborough last night in a performance he described as perfect.
All they really needed to do was keep a clean sheet because there is little chance of Peterborough doing likewise at the other end. They've kept only three clean sheets all season and all of those were against teams currently in the bottom five.
The points have taken West Ham to within one point of Reading and, for what it's worth a goal difference that's one goal better. It really does look as though these two are going to fight for the second automatic promotion place behind Southampton.
Nothing will be decided this weekend but it's West Ham v Reading at the Boleyn Ground and whichever of the two wins that game must surely be considering themselves favourites. That's as long as Sam isn't flabbergasted again.
The minute you write a team off at the bottom they seem to come back and win. That's what happened to Portsmouth last night. Any win for the administration league leaders is a surprise and beating Hull was definitely that.
A win for Hull would have taken them back into the top six at the expense of Birmingham City but the points have seen Pompey move off the bottom and a point clear of Doncaster. More significantly they are now just three points behind Bristol City with a massively better goal difference.
Should they beat us on Saturday there is every chance they could be back out of the bottom three going into the last few games.
All the other games ended in draws. Doncaster got a point at Palace whilst Ipswich had to come from behind to draw with Middlesbrough at Portman Road. Both games ended 1-1 with the one remaining game, that between Leicester and Nottingham Forest, ending 0-0.
We've a full fixture list at the weekend, including our long trip to Portsmouth. Those fixtures can be found below last night's results, the league's leading goalscorers, the yellow and red card counts per club and the highest and lowest attendances this season.
The Midweek Results
Tuesday 27th March

Crystal Palace 1 Doncaster Rovers 1

Peterborough United 0 West Ham United 2

Ipswich Town 1 Middlesbrough 1

Portsmouth 2 Hull City 0

Leicester City 0 Nottingham Forest 0
The Midweek Stats

Biggest Win

Portsmouth 2-0 v Hull City (home)
West Ham United 2-0 v Peterborough United (away)

Total Goals Scored

8 (4 home - 4 away)

Player Scoring Most Goals

no player scored more than one goal

Highest Attendance

23,412 - Leicester City v Nottingham Forest

Lowest Attendance

13,401 - Crystal Palace v Doncaster Rovers

Total Yellow Cards

14

Total Red Cards

0

Most Cards in a Game

Crystal Palace v Doncaster Rovers (5Y) Ref: Darren Deadman
Leading Goalscorers (League Only)

24

Rickie Lambert (Southampton) - includes 9 penalties

16

Ross McCormack (Leeds United)

15

Darius Henderson (Millwall) - includes 2 penalties
Kevin Phillips (Blackpool)
Jay Rodriguez (Burnley) - includes 3 penalties

14

Michael Chopra (Ipswich Town)
David Nugent (Leicester City)

13

Billy Sharp (Southampton) - includes 1 penalty (10 with Doncaster Rovers)
Robert Snodgrass (Leeds United) - includes 2 penalties
Ricardo Vaz Te (West Ham United) - (10 with Barnsley)

12

Matty Fryatt (Hull City) - includes 1 penalty
Marlon King (Birmingham City) - includes 2 penalties

11

Craig Davies (Barnsley) - includes 1 penalty
Marvin Emnes (Middlesbrough)
Lukas Jutkiewicz (Middlesbrough) - includes 1 penalty - (9 with Coventry City)
Pete Whittingham (Cardiff City) - includes 3 penalties

10

Charlie Austin (Burnley)
Ashley Barnes (Brighton & Hove Albion) - includes 3 penalties
Luciano Becchio (Leeds United)
Guly Do Prado (Southampton)
Robert Koren (Hull City)
Adam Lallana (Southampton)
Kevin Nolan (West Ham United)
Paul Taylor (Peterborough United)
Chris Wood (Bristol City) - (9 with Birmingham City)
Nikola Zigic (Birmingham City)
Hat Tricks
Date

Player & Game

20/08/11

3: Lee Tomlin - PETERBOROUGH UNITED v Ipswich Town

10/09/11

3: Rickie Lambert - SOUTHAMPTON v Nottingham Forest

11/09/11

3: Chris Wood - BIRMINGHAM CITY v Millwall

12/10/11

3: Darius Henderson - Leicester City v MILLWALL

02/11/11

3: Jonjo Shelvey - Leeds United v BLACKPOOL

19/11/11

3: Rickie Lambert - SOUTHAMPTON v Brighton & Hove Albion

26/12/11

3: Matthew Phillips - Barnsley v BLACKPOOL

31/12/11

3: Ricardo Vaz Te - BARNSLEY v Leeds United

21/01/12

3: Darius Henderson - Barnsley v MILLWALL

31/01/12

4: Nikola Zigic - Leeds United v BIRMINGHAM CITY

26/02/12

3: Rickie Lambert - Watford v SOUTHAMPTON

17/03/12

3: Rickie Lambert - Millwall v SOUTHAMPTON

20/03/12

4: Garath McCleary - Leeds United v NOTTINGHAM FOREST
Disciplinary Record (League and Cup)

Club

Y

R

Y

R

Club

Y

R

Y

R

League

Total

League

Total

Barnsley

53

2

56

2

Ipswich Town

50

5

51

5

Birmingham City

50

3

55

3

Leeds United

62

5

68

5

Blackpool

49

1

52

2

Leicester City

55

9

63

9

Brighton and Hove Albion

81

8

95

8

Middlesbrough

66

7

69

7

Bristol City

72

6

74

6

Millwall

66

2

73

2

Burnley

54

2

62

2

Nottingham Forest

53

4

58

4

Cardiff City

46

0

62

0

Peterborough United

47

2

50

2

Coventry City

48

2

50

2

Portsmouth

63

4

70

4

Crystal Palace

48

2

52

3

Reading

52

0

55

0

Derby County

52

1

52

1

Southampton

46

4

49

4

Doncaster Rovers

66

2

68

2

Watford

55

2

57

2

Hull City

59

1

64

1

West Ham United

57

6

60

7
Highest and Lowest Attendances

Highest

Lowest

Att

Fixture

Att

Fixture

34,936

West Ham United v Coventry City (02/01)

6,351

Peterborough United v Cardiff City (18/10)

34,900

West Ham United v Crystal Palace (25/02)

6,392

Peterborough United v Millwall (06/03)

34,749

West Ham United v Barnsley (17/12)

6,717

Peterborough United v Reading (20/03)

34,650

West Ham United v Doncaster Rovers (10/03)

7,004

Peterborough United v Bristol City (18/02)

33,465

West Ham United v Portsmouth (10/09)

7,540

Peterborough United v Blackpool (10/03)

33,366

Leeds United v West Ham United (17/03)

7,555

Peterborough United v Portsmouth (28/01)

33,010

Derby County v Southampton (15/10)

7,572

Doncaster Rovers v Millwall (20/03)

33,010

Derby County v Leeds United (26/12)

7,650

Doncaster Rovers v Watford (26/11)

33,010

Derby County v Nottingham Forest (17/03)

7,778

Doncaster Rovers v Bristol City (27/08)

32,875

West Ham United v Southampton (14/02)

7,901

Peterborough United v Burnley (17/09)
The Next Fixtures
Friday 30th March

Doncaster Rovers v Birmingham City

Saturday 31st March

Blackpool v Southampton (17:25)

Ipswich Town v Barnsley

Brighton & Hove Albion v Middlesbrough

Leeds United v Watford

Bristol City v Derby County

Peterborough United v Leicester City

Cardiff City v Millwall (12:30)

Portsmouth v Burnley

Crystal Palace v Nottingham Forest

West Ham United v Reading

Hull City v Coventry City