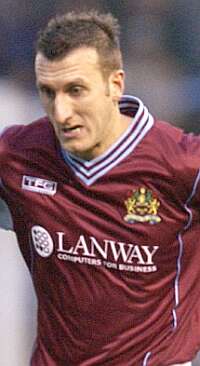 Glen Little - could be set to start after returning as a sub at Palace
Richard Chaplow will miss the game, he is serving a one match ban after receiving a red card from referee Phil Prosser at Mansfield in our FA Cup win. The first of his offences still remains a mystery whilst the second was kicking the ball away all of two yards.
Paul Weller was expected to move into the centre of midfield to partner Tony Grant but he has one of Burnley's now famous 'tweaked hamstrings' although he has not been ruled out of the equation as yet.
A hamstring injury also rules Arthur Gnohere out but Glen Little will be in the squad again after recovering far more quickly than expected from his sustained at Crewe on Boxing Day.
Other than that it is much the same squad with the one difference, we have two goalkeepers, and that is for me no luxury but a necessity.
We've got away with it so far this season and it is clear that the signing of Nathan Abbey is insurance for the FA Cup tie next week against Gillingham. The rules of the competition are clear, you cannot play if you have been signed less than seven days before the tie. An injury to Brian Jensen would have left us with just Michael Hale, a first year scholar to play in the cup.
There'll be no changes at the back, we have nobody to make changes up front even if we wanted to so it is the midfield where there will be options. If Weller is fit then he will partner Grant and that could see Glen back in the starting line up although skipper Graham Branch or fit again Alan Moore could also be pushing for a starting place.
I expect us to line up: Brian Jensen, Lee Roche, Mark McGregor, David May, Mo Camara, Luke Chadwick, Paul Weller, Tony Grant, Glen Little, Robbie Blake, Ian Moore. Subs: Nathan Abbey, Dean West, Joel Pilkington, Graham Branch, Alan Moore.
West Brom have also strengthened their squad this week with the signing of Mark Kinsella from Aston Villa but it is looking as if he will probably start the game on the bench even though they will be without Jason Koumas who is probably as good as any midfielder in this division.
Koumas was injured in last week's win against Walsall and although a scan showed no damage to the knee he is not likely to be fit enough for today's game. That would have allowed a return for James O'Connor, who played so well against us down at The Hawthorns, but he like Chappy is ruled out with a suspension.
But former Forest player Andy Johnson is fit again and almost certainly will take Koumas' place in the side.
And that just leaves the forwards and there will be a change there with Scott Dobie, currently in the side, having suffered knee ligament damage in training this week. That will get Rob Hulse back into the side with Lee Hughes expected to take his place on the bench.
Lloyd Dyer should be on the bench too, he had a sparkling debut last week after coming on. Megson put that down to him being out on loan at Kidderminster saying that he would be following in Sir Alex Ferguson's footsteps and sending his young players out on loan. It is something we don't do at Burnley, Stan recently saying that he likes them at Burnley where he can keep an eye on them.
West Brom should line up: Russell Hoult, Bernt Haas, Thomas Gaardsoe, Darren Moore, Paul Robinson, Andy Johnson, Sean Gregan, Artim Sakiri, Neil Clement, Rob Hulse, Geoff Horsfield. Subs: Joe Murphy, Phil Gilchrist, Lloyd Dyer, Mark Kinsella, Lee Hughes.