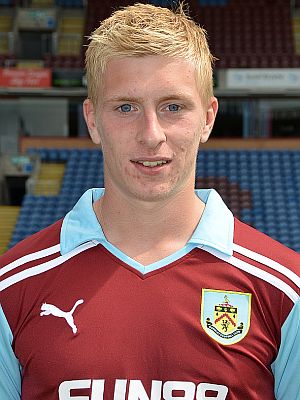 Mee was again the man of the match winner, but by a close call had to settle for second place in the player ratings.
Three players won 20% or more of the man of the match vote to take the top three places. Mee came out on top with 22.8% of the vote with fellow central defender Michael Duff just behind with a 21.4% share.
Midfielder Dean Marney, like Mee on top form since coming back into the team recently, took third place with exactly 20% of the vote.
The result in the player ratings was different this week and Jay Rodriguez, just sixth in the player ratings, was top with a rating of 7.37 out of 10. That was just head of Mee whose rating was 7.34.
Again Marney was in third place with rating of 7.21 out of 10. Duff, who was in second place in the man of the match vote, had to settle for fourth place.
The two results mean Mee won another five points towards the Clarets Mad Player of the Year. There were also three points for Rodriguez and two each for Duff and Marney.
Rodriguez, in third place, is now just one point behind second place Kieran Trippier and within seven points of leader Marvin Bartley. Both Marney and Mee continue to climb the table. Marney is now sixth with his recent points taking him ahead of David Edgar.
Mee has moved alongside Chris McCann into tenth place while Duff remains in thirteenth place in the table.
The result from the Derby game is below along with the current player of the year table.
Man of the Match
22.8% - Ben Mee (96 votes)
21.4% - Michael Duff (90 votes)
20.0% - Dean Marney (84 votes)
13.5% - Kieran Trippier (57 votes)
5.7% - David Edgar (24 votes)
5.2% - Jay Rodriguez (22 votes)
3.8% - Charlie Austin (16 votes)
3.1% - Josh McQuoid (13 votes)
2.1% - Keith Treacy (9 votes)
1.2% - Chris McCann (5 votes)
0.7% - Lee Grant (3 votes)
0.5% - Ross Wallace (2 votes)
Player Ratings
7.37 - Jay Rodriguez
7.34 - Ben Mee
7.21 - Dean Marney
7.16 - Michael Duff
6.95 - Kieran Trippier
6.92 - David Edgar
6.55 - Charlie Austin & Josh McQuoid
6.47 - Lee Grant
6.29 - Chris McCann
5.79 - Ross Wallace
5.74 - Keith Treacy
Clarets Mad Player of the Year
48: Marvin Bartley
42: Kieran Trippier
41: Jay Rodriguez
31: Charlie Austin & Lee Grant
30: Dean Marney
29: David Edgar
25: Ross Wallace
22: Andre Amougou
20: Chris McCann & Ben Mee
17: Keith Treacy
16: Michael Duff
9: Brian Easton
5: Wade Elliott & Junior Stanislas
2: Martin Paterson
1: Zavon Hines