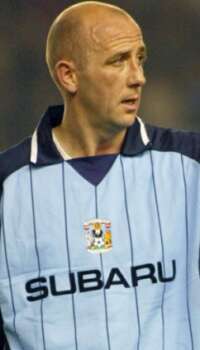 McAllister - stood down to be with his family as wife Denise fights illness
The Coventry player/boss took a short break away from the club recently for personal reasons but returned and has been in the side. But today he stood down again, albeit temporarily, for the same reasons. He asked to be temporarily released from all Club duties for the foreseeable future for personal reasons.
Gary informed the Club Chairman Mike McGinnity and his colleagues that he feels he should be with his family at this time to support the recovery of his wife, Denise, who has been fighting illness.
Coventry have said they fully understand Gary's decision and wish him and his family well for the future and they also made it clear he will be welcome back at the Club at any time he wishes.
McAllister said today: "I believe that I have a responsibility to be with my family at this time. I am very grateful for all the support we have received from the Club and the fans and I hope to return to the Club in the future."
Chairman Mike McGinnity added: "Myself and the whole board totally respect Gary's wishes to be with his family at this difficult time. We have entrusted the manager's responsibilities during Gary's absence to Eric Black, who we have every confidence will continue to take the Club forward."
Black will be in charge at Turf Moor on Saturday and we would like to wish Denise McAllister a speedy and full recovery.