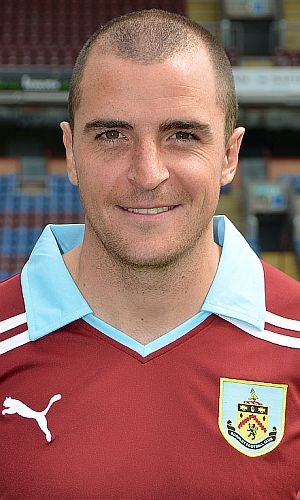 This latest performance has won him the man of the match vote for the third time in under three weeks. He won the vote for the two Christmas home games against Doncaster Rovers and his former club Hull City and, after Ben Mee won the next two, has come back with a third man of the match performance.
In a good all round team performance he won 32.0% of the man of the match vote to take first place ahead of the two goalscorers. Right back Kieran Trippier, playing his first game since becoming a permanent Claret, was second with a 21.9% share whilst 18.9% of the vote gave Jay Rodriguez third place.
Marney also won the play ratings and his 8.71 out of 10 was the second highest rating of the season, behind Chris McCann's 8.77 in the 4-0 home win against Ipswich at the end of November.
The two goalscorers again took the next two places although this time the other way round. It was Rodriguez who came second with a rating of 8.48 and Trippier took third place with a rating of 8.00 out of 10.
The points towards the Clarets Mad Player of the Year therefore go to three players. Marney again gets six points and there are three points each for Trippier and Rodriguez who close the gap on Marvin Bartley at the top of the table.
Bartley's lead over Trippier is now reduced to six points with Rodriguez another four points behind. Marney has shot up from nowhere and is now in seventh place, just one point behind Edgar and a further two points behind Charlie Austin and Lee Grant who are in second place.
The next vote will be the man of the match vote for the Derby game and will start within an hour of the final whistle on Saturday.
The results from the Middlesbrough game and the current player of the year table are below.
Man of the Match
32.0% - Dean Marney (139 votes)
21.9% - Kieran Trippier (95 votes)
18.9% - Jay Rodriguez (82 votes)
8.1% - Michael Duff (35 votes)
4.6% - Ben Mee (20 votes)
3.9% - David Edgar (17 votes)
3.5% - Martin Paterson (15 votes)
2.1% - Chris McCann (9 votes)
1.8% - Lee Grant (8 votes)
1.6% - Ross Wallace (7 votes)
0.9% - Junior Stanislas (4 votes)
0.7% - Marvin Bartley (3 votes)
Player Ratings
8.71 - Dean Marney
8.48 - Jay Rodriguez
8.00 - Kieran Trippier
7.76 - Michael Duff, David Edgar & Ben Mee
7.71 - Chris McCann
7.43 - Martin Paterson
7.19 - Marvin Bartley
6.95 - Ross Wallace
6.90 - Junior Stanislas
6.52 - Lee Grant
Clarets Mad Player of the Year Table
48: Marvin Bartley
42: Kieran Trippier
38: Jay Rodriguez
31: Charlie Austin & Lee Grant
29: David Edgar
28: Dean Marney
25: Ross Wallace
22: Andre Amougou
20: Chris McCann
17: Keith Treacy
15: Ben Mee
14: Michael Duff
9: Brian Easton
5: Wade Elliott & Junior Stanislas
2: Martin Paterson
1: Zavon Hines