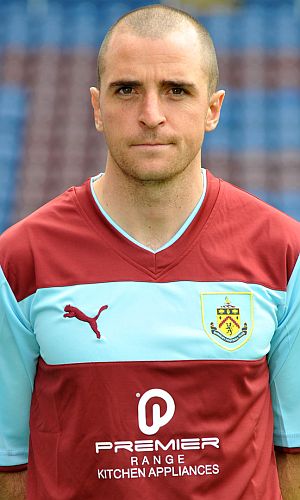 Burnley played as well as at any time this season and the catalyst for the performance came from midfield where Chris McCann, and in particular Marney, were in really good form.
Marney's performance won him both the man of the match vote and the player ratings on Clarets Mad, and it was very much a one horse race in the man of the match vote with the real contest coming for second place.
The former Hull midfielder won 46.7% of the vote and it was Junior Stanislas, with a share of 8.8%, who just took second place at the last minute from McCann and Sam Vokes who were joint third with 8.4% of the vote each.
Other than Marney in front, the player ratings brought a different result. He won that with a rating of 9.00 out of 10 but this time Jason Shackell came in second. HIs rating was 8.38 and Kieran Trippier was third with a rating of 8.00. Stanislas was again amongst the points, coming fourth with a rating of 7.88 out of 10.
That result gives Marney the maximum ten points towards the Clarets Mad Player of the Year. Stanislas won four points, there were three points for Shackell and all of McCann, Trippier and Vokes won two points.
It all means Marney moves into third place for the Clarets Mad Player of the Year. He's now just four points behind Lee Grant but, even with the ten points for this game, is still 21 points behind leader Charlie Austin.
The next vote will be the man of the match for tomorrow's Birmingham game and will be available within an hour of the final whistle.
The Millwall result and the current table are below along with the current player of the year table.
MAN OF THE MATCH
46.7% - Dean Marney
8.8% - Junior Stanislas
8.4% - Chris McCann & Sam Vokes
7.3% - Danny Ings
5.1% - David Edgar & Kieran Trippier
4.0% - Jason Shackell
2.2% - Ross Wallace
1.8% - Danny Lafferty
1.1% - Lee Grant & Keith Treacy
PLAYER RATINGS
9.00 - Dean Marney
8.38 - Jason Shackell
8.00 - Kieran Trippier
7.88 - Junior Stanislas
7.75 - Chris McCann
7.63 - Danny Lafferty
7.50 - Danny Ings, Sam Vokes & Ross Wallace
7.25 - David Edgar7.00 - Lee Grant
6.38 - Keith Treacy
CLARETS MAD PLAYER OF THE YEAR
99: Charlie Austin
82: Lee Grant
78: Dean Marney
70: Brian Stock
59: Michael Duff
43: Jason Shackell
42: Kieran Trippier
40: Ben Mee
36: Chris McCann
23: Danny Ings & Danny Lafferty
22: Sam Vokes
20: Junior Stanislas
18: Brian Jensen
16: Ross Wallace
15: Joseph Mills
10: Martin Paterson & Keith Treacy
7: Kevin Long
6: Marvin Bartley
4: David Edgar
2: Steven Hewitt
1: Dane Richards