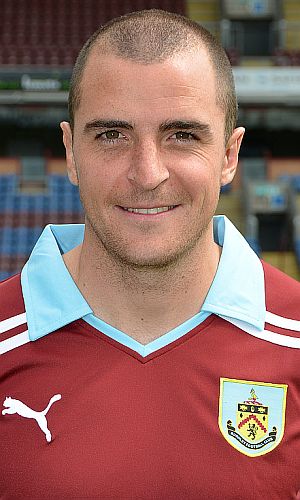 Mee had something of a difficult time, particularly in the first half, against Reading's Jimmy Kebe but the block with his head just before half time, after Lee Grant's knee had got in the way of a routine save, certainly won him some points with Burnley supporters. It proved to be the major talking point of the game and has had an influence on the voting.
Mee won the man of the match with 38.6% of the vote. Midfielder Marney, again in good form, was second with 26.0% and Mee's full back partner Kieran Trippier came in third with a 9.7% share of the vote.
Only Marney of those three made the top three in the player ratings. He won it with a rating of 7.30 out of 10. Jay Rodriguez was second here and his rating was 6.40 while David Edgar took third place with a rating of 6.20 out of 10.
Marney, therefore, came out on top with a total of five points towards the Clarets Mad Player of the Year. Mee won three points, Rodriguez two and there was a point each for Edgar and Trippier.
Marney's points have now taken him above Grant and into fourth place and Mee has edged above all of Andre Amougou, Chris McCann and Michael Duff to go ninth place. It's even tighter at the top with Trippier's lead over Rodriguez now down to one point.
The next man of the match vote starts on Saturday for the Millwall game and will be available within an hour of the final whistle.
Below is the result from Reading and the current player of the year table.
Man of the Match
38.6% - Ben Mee (131 votes)
26.0% - Dean Marney (88 votes)
9.7% - Kieran Trippier (33 votes)
6.5% - Michael Duff (22 votes)
3.2% - Josh McQuoid & Jay Rodriguez (11 votes)
2.9% - Charlie Austin & Chris McCann (10 votes)
2.1% - Ross Wallace (7 votes)
1.8% - David Edgar & Lee Grant (6 votes)
0.6% - Danny Ings & Martin Paterson (2 votes)
Player Ratings
7.30 - Dean Marney
6.40 - Jay Rodriguez
6.20 - David Edgar
6.15 - Kieran Trippier
6.05 - Michael Duff
5.85 - Charlie Austin
5.80 - Ben Mee
5.70 - Ross Wallace
5.65 - Chris McCann
5.50 - Josh McQuoid
5.35 - Martin Paterson
5.20 - Lee Grant
5.15 - Danny Ings
Clarets Mad Player of the Year
59: Kieran Trippier
58: Jay Rodriguez
49: Marvin Bartley
41: Dean Marney
37: Lee Grant
31: Charlie Austin
30: David Edgar
25: Ross Wallace
24: Ben Mee
22: Andre Amougou & Chris McCann
21: Michael Duff
17: Keith Treacy
9: Brian Easton
5: Wade Elliott & Junior Stanislas
2: Martin Paterson
1: Zavon Hines