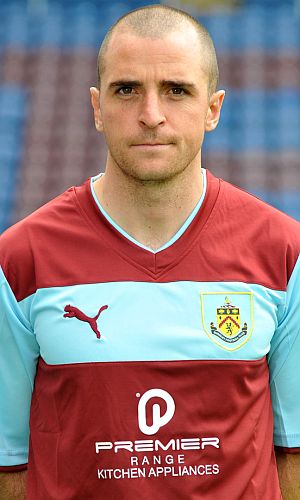 We played well with ten men and were still very unfortunate to lose a game in which two players have taken the honours in the man of the match vote and the player ratings.
Brian Stock again played well in midfield, having to play mainly in the midfield four as we went 4-4-1, and Dean Marney also took the plaudits after taking over at right back from Trippier and turning in an excellent performance.
It was Marney who just came out on top in the man of the match vote. He polled 39.9% of the vote, ahead of Stock who had a 35.2% share. Goalkeeper Lee Grant was third with 11.1% and 4.1% of the vote was enough to give fourth place to central defender Michael Duff.
The players who took the top three places in the vote also came out in the top three of the player ratings. This time Stock was the winner with a rating of 7.94 out of 10, edging out Marney who registered a rating of 7.91. Grant, again third, had a rating of 7.82 and this time Jason Shackell came fourth, his rating was 7.03 out of 10.
Both Marney and Stock, therefore, win eight points towards the Clarets Mad Player of the Year. Grant has earned himself four points with the two central defenders, Duff and Shackell, getting one point each.
Charlie Austin is still way ahead but with Grant, Stock and Marney in the next three places the lead has been cut. He's now only 19 points ahead of Grant who himself holds a nine point lead over Stock who is a further five points ahead of Marney.
The next vote will be for the Hull game and will be online within an hour of the final whistle on Saturday.
The result from the Charlton game is below along with the current player of the year table.
MAN OF THE MATCH
39.9% - Dean Marney
35.2% - Brian Stock
11.1% - Lee Grant
4.1% - Michael Duff
2.3% - Chris McCann
1.5% - Jason Shackell
1.2% - Charlie Austin
0.6% - Danny Lafferty & Martin Paterson
0.3% - Junior Stanislas
PLAYER RATINGS
7.94 - Brian Stock
7.91 - Dean Marney
7.82 - Lee Grant
7.03 - Jason Shackell
6.94 - Michael Duff
6.88 - Chris McCann
6.62 - Charlie Austin
6.26 - Danny Lafferty
5.74 - Junior Stanislas
5.53 - Martin Paterson
CLARETS MAD PLAYER OF THE YEAR
82: Charlie Austin
63: Lee Grant
52: Brian Stock
47: Dean Marney
37: Ben Mee
30: Chris McCann
20: Kieran Trippier
18: Brian Jensen & Jason Shackell
16: Michael Duff
15: Joseph Mills
14: Junior Stanislas & Sam Vokes
10: Martin Paterson
6: Marvin Bartley
3: David Edgar & Danny Lafferty
2: Steven Hewitt & Ross Wallace