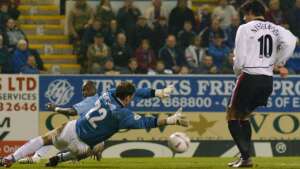 Marlon saves from Ruud van Nistelrooy during this week's Worthington Cup tie
It looked earlier this week as though Marlon could well have played his last game for the Clarets against Manchester United but after rejecting a two and a half year deal he has agreed to stay on for another month.
The Burnley keeper though has said once again that he wants to stay at Turf Moor if a deal can be struck and he told the club's web site,
"I've continued with the monthly deal but do hope to get something more permanent sorted out. Who knows when that will be but at the minute I'm enjoying my football at Burnley.

"It isn't ideal but until we come to some sort of agreement which is suited to both parties then we will have to continue with it.

"There is a two and a half year deal waiting for me but it doesn't suit both parties. I'm fully aware of the financial situation but as long as the club are happy to keep me here then I am happy to be here."

So it is another month and following reports this week that he could be on his way sooner rather than later this further month is good news with the hope that something more permanent can finally be thrashed out.