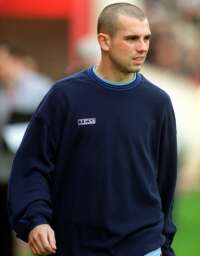 Mark McGregor could be set for League debut
Fred hasn't missed a game since October when he was left out of the side for a couple of games and this has been in total contrast to last season when he didn't get a game until April.
The big question is who will replace him and it did look as though Mark McGregor would be the obvious answer when he won a place on the bench recently but he hasn't been in the squad for the last two games.
There are alternatives but I do expect McGregor to start in a side that will show more than one change from the one that lost at Walsall. Left back has been a problem position and Lee Briscoe didn't have one of his better games on Tuesday and with Stan preferring him in a midfield role that's where I think Brisser will start. On this occasion though I don't think Branch will come in but don't be surprised to see Mitchell Thomas in the starting line up for the first time since we beat Walsall at the Turf back in September.
This will allow Brisser to move into a changed midfield that could see Tony Grant return after a hamstring injury with Alan Moore looking as though he could miss out. One other position on the field is one I don't expect to see any change and that is in goal. If Marlon plays, as I expect him to, then it will be his 250th league appearance for the Clarets.
The team tomorrow could look something like: Marlon Beresford, Mark McGregor, Steve Davis, Ian Cox, Mitchell Thomas, Paul Weller, Kevin Ball, Tony Grant, Lee Briscoe, Ian Moore, Gareth Taylor. Subs from: Nik Michopoulos, Gordon Armstrong, Arthur Gnohere, Paul Cook, Alan Moore, Brad Maylett, Robbie Blake.
Stockport also have a player suspended in Rob Clare and his place is expected to be taken by Andy Thomas in an otherwise unchanged side from Tuesday when believe it or not they won. Stockport are set to line up in a 5-3-2 formation as follows: Andy Dibble, Ali Gibb, Andy Thomas, Carlton Palmer, Dave Challinor, Colin Woodthorpe, McLachlan, David Smith, Keith Briggs, Jon Daly, Luke Beckett.
It has been a strange week for the Unprofessionals starting last Sunday when all the players went to church to pray for an improvement. That was followed by captain Colin Woodthorpe offering to walk naked on one leg through Stockport if they could be granted a win. Probably the strangest thing of all though was the fact that they did actually win a game.
Finally Stockport in promoting their internet match commentary have asked people to listen if they can't make the long trip to Humberside. Now as far as I know the ground is still in Cheshire so I wouldn't be rushing to travel east on the M62, it looks like an Unprofessional ploy to keep us away.
Let them pray but don't forget to wave.
For more on Stockport check out our Match Preview