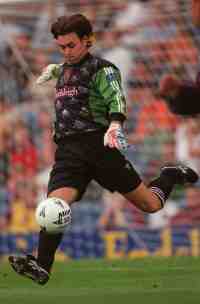 Marlon in action during the mid 90s
Marlon Beresford won 77.2% of the vote with Nik Michopoulos (15.7%) and Paul Crichton (7.1%) lagging some distance behind. Beresford must surely have won many votes for his performances between 1992 and 1998 but the result shows a complete turn around on just over a year ago. Then in a similar poll Michopoulos enjoyed five times the votes Marlon received.
There is no doubt though that it is Marlon you want and he takes his place in the best Burnley team of the last ten years with Nik getting the goalkeeper's position on the subs bench.
Now it is time for you to choose who to play on the right hand side of the back four, or the right back position as I remember it. There are six candidates for this position who are in alphabetical order: Chris Brass, Gerry Harrison, Ian Measham, Gary Parkinson, Ally Pickering and Dean West.
To vote just check out the voting poll on the front page, the poll will be there until the end of Monday. It's all up to you.