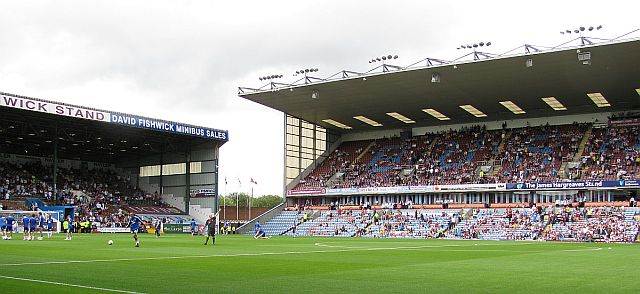 It's hard to keep a track on things and the incredible statistic is that ten Championship clubs no longer have the manager they started the season with and three more, Birmingham, Hull and Watford, changed manager during the summer.
This week's manoeuvres have all come in the last 48 hours or so starting with the appointment of Michael Appleton at Blackburn in a move that looks very much as though Derek Shaw and Paul Agnew, the Preston pair, have got one over on our friend Shebby Singh whose future at Ewood must now be in some doubt.
Appleton, of course, started the season with Portsmouth and was linked with each and every Championship job that became available. There was strong speculation that he was interviewed for the Burnley job but eventually replaced Ian Holloway at Blackpool.
It didn't take him long to get fed up there and this week, just 67 days after becoming their manager, he jumped ship to Blackburn and that's left former Claret Steve Thompson in temporary charge again.
They lost yesterday at Charlton and Thompson, who has put his name forward for the job, said: "It's not the perfect scenario when yet again these lads (the players) are coming in and there is no manager.
"The manager has worked with them for two months on how he wants them to play, and the next minute he's gone. It's my job to galvanise those players and get their belief back because they have had the stuffing knocked out of them again."
Chairman Karl Oyston, who didn't seem to make much effort to keep Appleton, just said he'd gone because Blackburn were able to offer him more money.
With that all settled it probably didn't come as much of a surprise that Derek McInnes went at Bristol City yesterday after a 4-0 defeat at home to Leicester. When we were there in November it as obvious that their fans weren't happy with him and there has certainly been no improvement since.
Meanwhile at Barnsley every man and his dog has been turning the job down including out of work Sean O'Driscoll and Inverness Caledonian Thistle manager Terry Butcher. So, they've given up looking for a new man now and given it to the one person who always wanted the job, caretaker David Flitcroft.
Bristol City and Barnsley swapped places yesterday but remain the bottom two. That's because Barnsley won the Yorkshire derby against Leeds. Peterborough dropped back into the relegation zone when Sheffield Wednesday won a sensational game at Hull in front of the television cameras.
It was a game that poor Hull's Swiss goalkeeper Eldin Jakupovic won't particularly want to remember. He was at fault with the first two Wednesday goals, was fortunate to see another strangely ruled out, and was then stretchered off after the second goal with a facial injury.
Thankfully the facial injury wasn't serious and he should be able to continue after making his debut three weeks ago, becoming the third of four goalkeepers they've used this season.
Despite the defeat, Hull remain second and that's because the two teams directly below them both lost. Palace were beaten against us and Middlesbrough went down to a 2-1 home defeat against Watford.
Those results mean Leicester, who have scored ten goals in two league games in 2013, go third. two points behind Hull. Cardiff are now eight points clear at the top with Watford the other club in the play off positions.
Despite our win yesterday, we remain four points behind the play offs and eight points behind fifth place.
The latest results and stats are below along with the leading goalscorers, each club's disciplinary record, the highest and lowest Championship attendances and next weekend's fixtures.
The Results
Friday 11th January

Wolverhampton Wanderers 1 Blackburn Rovers 1

Saturday 12th January

Barnsley 2 Leeds United 0

Charlton Athletic 2 Blackpool 1

Bolton Wanderers 1 Millwall 1

Huddersfield Town 1 Birmingham City 1

Brighton & Hove Albion 2 Derby County 1

Hull City 1 Sheffield Wednesday 3

Bristol City 0 Leicester City 4

Middlesbrough 1 Watford 2

Burnley 1 Crystal Palace 0

Nottingham Forest 2 Peterborough United 1

Cardiff City 0 Ipswich Town 0
The Stats

Biggest Win

Leicester City 4-0 v Bristol City (home)

Total Goals Scored

29 (14 home - 15 away)

Player Scoring Most Goals

3 - Chris Wood (Leicester City)

Highest Attendance

25,464 - Brighton & Hove Albion v Derby County

Lowest Attendance

11,564 - Burnley v Crystal Palace

Total Yellow Cards

33

Total Red Cards

0

Most Cards in a Game

Wolverhampton Wanderers v Blackburn Rovers (8Y) Ref: Dean Whitestone
Leading Goalscorers (League Only)

22

Glenn Murray (Crystal Palace) - includes 7 penalties

20

Charlie Austin (Burnley) - includes 3 penalties

16

Jordan Rhodes (Blackburn Rovers) - includes 2 penalties, 2 with Huddersfield Town
Chris Wood (Leicester City) - 11 with Millwall

15

Luciano Becchio (Leeds United) - includes 4 penalties

14

Matej Vydra (Watford) - includes 2 penalties

13

Tom Ince (Blackpool) - includes 3 penalties

12

Marlon King (Birmingham City) - includes 3 penalties
David Nugent (Leicester City) - includes 1 penalty

11

Craig Mackail-Smith (Brighton & Hove Albion) - includes 2 penalties

10

DJ Campbell (Ipswich Town)
Troy Deeney (Watford)
Scott McDonald (Middlesbrough)

9

Sam Baldock (Bristol City) - includes 4 penalties
Sylvan Ebanks-Blake (Wolverhampton Wanderers) - includes 2 penalties
Billy Sharp (Nottingham Forest) - includes 2 penalties

8

Sone Aluko (Hull City)
Craig Davies (Bolton Wanderers) - includes 1 penalty, 8 with Barnsley
Steven Davies (Bristol City) - includes 2 penalties
Lukas Jutkiewicz (Middlesbrough)
Theo Robinson (Derby County)
Hat Tricks
Date

Player & Game

01/09/12

3: Pete Whittingham - CARDIFF CITY v Wolverhampton Wanderers

15/09/12

3: Charlie Austin - BURNLEY v Peterborough United

22/09/12

3: Glenn Murray - CRYSTAL PALACE v Cardiff City

22/09/12

4: Craig Davies - Birmingham City v BARNSLEY

23/09/12

3: David Nugent - LEICESTER CITY v Hull City

29/09/12

3: Emile Sinclair - Hull City v PETERBOROUGH UNITED

02/10/12

3: Charlie Austin - BURNLEY v Sheffield Wednesday

23/10/12

3: Marlon King - Millwall v BIRMINGHAM CITY

06/11/12

3: Glenn Murray - CRYSTAL PALACE v Ipswich Town

17/11/12

3: Jordan Rhodes - Peterborough United v BLACKBURN ROVERS

12/01/13

3: Chris Wood - Bristol City v LEICESTER CITY
Disciplinary Record (League and Cup)

Club

Y

R

Y

R

Club

Y

R

Y

R

League

Total

League

Total

Barnsley

37

1

42

2

Huddersfield Town

49

4

54

4

Birmingham City

41

3

43

3

Hull City

30

1

30

2

Blackburn Rovers

36

0

38

0

Ipswich Town

35

0

37

0

Blackpool

36

0

37

0

Leeds United

46

2

52

2

Bolton Wanderers

49

1

52

1

Leicester City

29

1

29

1

Brighton & Hove Albion

34

1

38

1

Middlesbrough

35

0

41

0

Bristol City

34

0

37

0

Millwall

49

2

52

2

Burnley

49

1

57

2

Nottingham Forest

45

4

45

5

Cardiff City

45

2

48

2

Peterborough United

43

1

46

1

Charlton Athletic

42

1

43

2

Sheffield Wednesday

46

1

50

1

Crystal Palace

38

2

44

2

Watford

47

4

50

4

Derby County

35

1

36

1

Wolverhampton Wanderers

30

1

34

1
Highest and Lowest Attendances

Highest

Lowest

Att

Fixture

Att

Fixture

28,707

Nottingham Forest v Derby County (30/09)

5,435

Peterborough United v Bristol City (18/09)

28,595

Wolverhampton W v Ipswich Town (29/12)

5,633

Peterborough United v Blackpool (01/12)

28,582

Sheffield Wednesday v Leeds United (19/10)

5,997

Peterborough Utd v Blackburn Rovers (17/11)

28,229

Middlesbrough v Sheffield Wednesday (09/11)

6,188

Peterborough United v Millwall (21/08)

27,437

Derby County v Sheffield Wednesday (18/08)

6,348

Peterborough Utd v Huddersfield Town(23/10)

26,727

Brighton & Hove Albion v Watford (29/12)

6,600

Peterborough Utd v Bolton Wand (23/12)

26,684

Brighton & HA v Nottingham Forest (15/12)

6,612

Peterborough Utd v Middlesbrough (08/12)

26,670

Nottingham Forest v Leeds United (26/12)

7,339

Peterborough Utd v Bristol City (01/01)

26,598

Sheffield Wed v Bolton Wanderers (22/09)

8,088

Barnsley v Bristol City (01/09)

26,594

Brighton & HA v Sheffield Weds (14/09)

8,195

Barnsley v Crystal Palace (23/10)
The Next Fixtures
Friday 18th January

Leicester City v Middlesbrough

Saturday 19th January

Birmingham City v Brighton & Hove Albion

Leeds United v Bristol City

Blackburn Rovers v Charlton Athletic

Millwall v Burnley

Blackpool v Cardiff City (17:20)

Peterborough United v Hull City

Crystal Palace v Bolton Wanderers

Sheffield Wednesday v Wolverhampton Wanderers

Derby County v Nottingham Forest (13:00)

Watford v Huddersfield Town

Ipswich Town v Barnsley