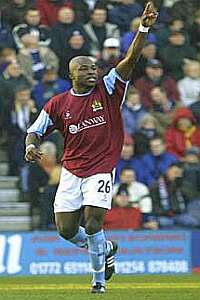 Arthur leads the way
The idea is that the winner of the most polls will receive our Player of the Season award and there is still time to make your vote count not only for Saturday's game against Norwich but also during the rest of the season.
To be honest I was going to bring you this update on how things are going around New Year time but, as experience has shown that more of you vote when the Clarets win a match, I thought I would wait until our next victory. Well with only 5 home games left, it couldn't really wait any longer!
Not counting the Norwich game for which the poll is still running the Clarets have played 17 home league matches and 1 in the FA Cup. It is fair to say that the awards have been fairly well spread around the team with 10 different winners so far.
Leading the way with 4 awards is Arthur Gnohere who almost made the competition his own in late October and early November with 3 awards out of 4 games. If you wanted a sign that he is getting back to his best form he also won the award for the recent Nottingham Forest game and is featuring strongly in the current poll.
Next up is Ian Moore with 3 from 2 early season games and another in the FA Cup thanks to his hat trick against Canvey Island. Apart from that he has not really been in the running recently.
With 2 awards each are Glen Little, Alan Moore and Tony Grant though it would probably be fair to say that all of them have mixed excellent performances with indifferent ones throughout the season.
The players with 1 award are Steve Davis, Nik Michopoulos, Andy Payton, Dean West and Kevin Ball.
The surprising thing is that 14 goal top scorer Gareth Taylor has yet to top one of the polls despite being the match winner on more than one occasion. Contrast that with the award for Andy Payton whose 2 goals as a substitute in the draw against Crewe were enough to win him that vote.
The other players who have yet to win an award are Paul Weller, Lee Briscoe, Ian Cox, Paul Cook and Gordon Armstrong, none of whom you would call 'flashy' players and it seems that they just aren't catching your eye even though they have all turned in regular solid performances.
It has been interesting to watch the votes come in throughout the season and there are always those where your choice does not win. However, the vast majority of the winners so far have come out on top by a comfortable margin so maybe the polls do give an accurate indication of who most of us thought was the best player in a particular match.
So at the moment it looks very much like it is going to be a case of 'King' Arthur but there is still time for someone to make a name for themselves and to pip him at the post.