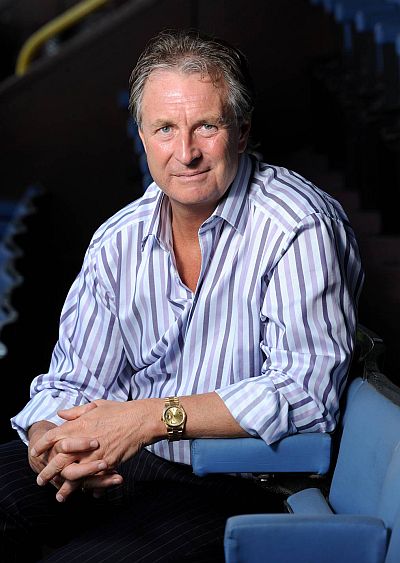 Remembered for being one of the best headers of the ball ever at Turf Moor in the 70's, and a key member of Jimmy Adamson's 'Team of the Seventies', he then went on to become one of the world's leading stadium experts having been involved in the construction of four UK stadiums and adviser to 30 others around the world. Even now he is involved in stadium work at 3 locations.
He has played football on Blackpool beach and been a speaker at Cambridge University. He has met Kings and Queens, Bishops and Prime Ministers, sporting legends and heroes, comedians and football top brass, and has stories about most of them.
A basic theme of his new book is how a council estate lad who left school at 16, can make good with effort, determination, and a lot of help and inspiration from a Dale Carnegie course that he attended in Bolton towards the end of his playing career, with his leg in a pot.
From that he went on to become an after-dinner speaker, a motivational speaker and on top of all that plays the ukulele at functions up and down the land with a big smile and huge aplomb. His rendition of 'When I'm Cleaning Windows' is said to be legendary.
His new book MAGICAL A Life in Football will be published on October 20th.
The title Magical comes from his experiences in the game that have given him such a wonderful time and varied career. It's a word that crops up so often in the book. It's the word that perfectly encapsulates his life in football.
He returned to Turf Moor to oversee the building of a new multi-purpose stand. The recession and banking problems put an end to that but then having resigned as Chief Executive; he continued to work on the establishment of the unique University College of Football Business at Turf Moor where he is now managing director of an institution that is rapidly expanding.
The lad who left school at 16, was coached by the legendary Nat Lofthouse, eventually helped found a university and received the MBE for services to football. This is a far from routine football book, packed with variety and laugh out loud moments. It's a book that could just as easily have been called The Entertainer.
There are chapters on his early days in football, the move to Burnley, the Team of the Seventies, Jimmy Adamson; his time at Blackpool, and then the move into the normal everyday world of earning a proper living. He covers his after-dinner speaking, stadium building at different locations, and then his time back at Burnley that included the Prem season and ended not with a new Stadiarena but a new University, the UCFB.
This is a book that bounces along at a cracking pace filled with anecdotes of events and players, and stories of his stadium work at Huddersfield, Bolton, Coventry and Wembley. It is a book that is much more than just an ex-Burnley footballer's tale. Paul Fletcher's story and stories come not just from Burnley but the wider world of football and will appeal to football fans everywhere.
There are, as yet, no details of price or ordering but it likely to be a hard-back at somewhere around £15.99 possibly less. This is a book that is as boisterous and bouncy as Fletch himself; just a great read of a magical life in football.