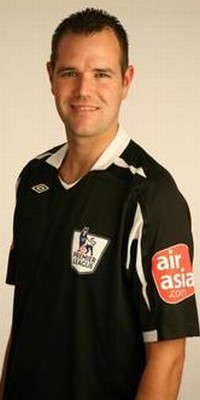 It will be his third Burnley game tonight and the first of those two previous games was in January 2009 when I spent the entire away game against Watford trapped on the M1. We lost 3-0 that night but I think far more fingers were pointed at the defending of Clarke Carlisle than at referee Linington.
We didn't score a goal the next time we saw him either, but we did turn in a much better performance in a 0-0 draw at Crystal Palace last season. My observations at the time were that he lacked fitness and was often caught too far away from the action, and he also far too keen to use his yellow cards with seven players carded in a game of only 21 fouls.
Now in his fourth season as a Football League referee, he's getting more and more games at Championship level and tonight's will be his tenth of the season.
What can we expect from him? He's not necessarily over keen on his cards but we are unlikely to have a card free game given that it is well over a year since he last kept his cards in his pocket for 90 minutes.
This season he's refereed 30 games in which there have been 97 yellow cards and six red cards. Of those yellows, 45 have gone to home team players and 52 to away team players. It's been a season of two halves for him. In the first half some 75% of the yellow cards went to away team players but the second half has seen some sort of reverse which has balanced things out.
Of those six red cards; the last three have come in Championship games. On New Year's Day Bank Holiday he sent off Leicester City's Steve Howard in their 2-1 win at Crystal Palace. More recently both James Wilson and Yannick Bolasie of Bristol City were dismissed as they lost 3-0 at home against Leeds United.
His last game was Dagenham & Redbridge's 1-0 home win against Bradford City on 3rd March. Jonathan Bond and Joss Scott from the home side were yellow carded as was Bradford City's Matthew Fry.
Linington currently stands in 20th place in the RATE THE REF Table with a rating of 67.86 out of 100.
The assistant referees are Gary Evetts (Hertfordshire) and Elliott Kaye (Essex). The fourth official is Matt Foley (London).
Previous Burnley Games
Season

Opponents

V

Res

Y

R

Burnley Players Carded

2008/09

Watford

a

0-3

2

0

n

Kalvenes

2010/11

Crystal Palace

a

0-0

7

0

n

Mears, Elliott, Carlisle, Fox