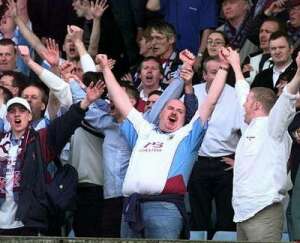 Celebrating our last promotion at Scunthorpe
For years the Clarets were just dreadful away from Turf Moor. Even in the play off season of 1993/94 we managed just four away wins and twice conceded four goals against teams who were set for relegation.
The poisoned dwarf Adrian Heath said he would change it – HE DIDN'T. The clown who replaced him said he would but again – HE DIDN'T. And then came Stan who also said he would and although it too some time he has. Even during the promotion season we went into February with only two away wins (but a good number of draws) and then went to Bournemouth and won 1-0 with a goal from Andy Payton – who else.
Since then it has been incredible, that was the first in a run of seven wins and two draws from the last nine away games. Last season we picked up a more than creditable seven wins on the road and this season so far it is eight. So in just over two years we have picked up three points on our travels on no less than 22 occasions.
This season already we have more points than in the whole of last season and since losing at Wolves in October have lost just one of nine league games away from Turf Moor, at KKMC.
So why are we not top of the league? The reason is the home form. After sixteen league games at Turf Moor we have won just half of them. We have only one less point from away games and we haven't won at Turf Moor since mid December when we beat the Unprofessionals of Stockport 3-2.
Why though? Good question but if we had the answer and it was easy to sort out then we would be top of the league. On television this weekend one of the claptrappers (Robbie Earle I think) suggested that some teams are put under too much pressure when they play at home from an expectant and demanding crowd. He quoted Wolves as a good example and they have four points more home points than the Clarets from one more game.
Stan says the crowd are important, for those of us sat in the stands it is difficult to know how much an influence we are on the players but we do have to take theirs and Stan's word. It is a fact that away from home there is far less criticism when things are not exactly going right, it does seem to be more a case of getting behind them. Two night games readily come to mind, coming back from 2-0 down at Gillingham to draw 2-2 and winning 2-1 at Watford after trailing.
On both occasions the fans, and far fewer Clarets than at Turf Moor, never stopped in their support. On Saturday at the Turf it wasn't like that as the booing started again. Certain players came in for some stick and the substitutions were greeted with derision. Again we can never know what effect it has on the players but again we take their word for it.
We are still in with a real chance of playing Premiership football next season. After what has happened over recent years it is hard to believe I have even written that sentence so I will repeat it. We are still in with a real chance of playing Premiership football next season.
There are no guarantees, we can only crack on and see where it takes us. But let's crack on, each and every one of us, on and off the field. Let's all of us give it our best shot starting tonight.
So if you feel aggrieved that this player or that player is not at his best. If you think another player could do better or if you don't agree when Stan makes one of his difficult to understand substitutions then you do your bit and get to your feet and do your best and shout