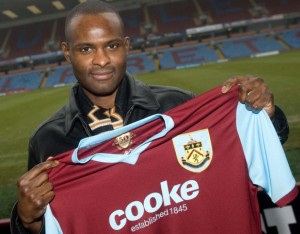 Cort had been under contract until the end of next season but this decision, mutually agreed between Burnley Football Club and Cort, meant he as a free agent and able to talk to any club.
He hasn't dallied and today returned to Charlton on a permanent basis, signing a contract that is the same, in length, to the one he had at Burnley, to the end of the 2012/13 season.
"I'm delighted to commit my future to Charlton," he said. "I've really enjoyed the first half of the season here, and look forward to helping the club back into the Championship. These are exciting times for Charlton and I'm delighted to be a part of it."
The South Londoner added: "The lads have been brilliant and helped settle me in straight away. It certainly made me feel like I've been here a lot longer. I have family and friends around me and Charlton is a massive club with a great fanbase, so what more could you ask for?
"There is definitely such a thing as a promotion mentality. If you lose a game, you can assess what went wrong, but you cannot dwell on it, and people can't start losing faith and getting uptight. If you do, it will be a sinking ship.
"We've twice moved on from defeats in a really positive fashion, and we head to Sheffield Wednesday in good spirits."
Cort has played six times for Charlton, the last of which was at home to Brentford on 2nd January. He was yellow carded in that game, just his fourth card in the last eight years.