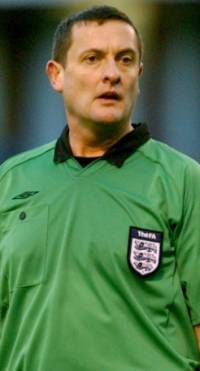 Graham Laws - called it off

The rain started to come down around an hour or so before kick off but apparently the pitch was far from good before this and by the time the game started there was surface water just about right across the pitch with no sign of any improvement in the weather.



The early exchanges told you that this was going to be a farce as the ball wouldn't roll properly and you began to wonder just why on earth it had been started in the first place.



We survived a goalmouth scramble at the expense of a corner but really there was no pattern to the game and the conditions claimed a victim when Brian Jensen slid and collided with a Leicester player and required treatment.



James O'Connor looked to have broken though but was held back by Dion Dublin and by now we were close to the end. The ball stuck on the line and the players had some difficulty in moving it.



At this point the referee called for his two assistants but then appeared to be ready to continue as the weather got worse. After more discussions he took the players off and that was that.



I've never seen the pitch at the Turf deteriorate so quickly and there was no way on earth a football match could be played on it so that means another match to re-arrange.



Man of the match was without doubt Graham Laws who finally came to the right decision and he said after the abandonment, "At 3:00 p.m. the pitch was playable but as the game went on it got worse.



"The injury to Brian Jensen was due to the ball sticking short and more players were concerned for their safety.



"The ball was sticking in the centre and the weather wasn't getting any better, so after nineteen minutes I decided to call the game off."



As for the teams, Frank Sinclair came back in and captained the side, he replaced Gary Cahill who was taken ill and Paul Scott was on the bench instead of Robbie Blake.



Blake was at the ground and was initially expected to be in the squad, a late decision maybe based on the conditions changed that.



The teams that played the nineteen minutes were,



Burnley: Brian Jensen, Michael Duff, Frank Sinclair, John McGreal, Mo Camara, Lee Roche, Micah Hyde, Tony Grant, James O'Connor, Graham Branch, Ian Moore. Subs: Paul Scott, Amadou Sanokho, Joel Pilkington, Richard Chaplow, Matt O'Neill.



Leicester: Stuart Taylor, Chris Makin, Martin Keown, Dion Dublin, Nikos Dabizas, Jordan Stewart, Gareth Williams, Lilin Nalis, Scott Gemmill, David Connolly, James Scowcroft. Subs: Canero, Stearman, Matt Heath, Joey Gudjonsson, Tommy Wright.



Referee: Graham Laws (Whitley Bay).