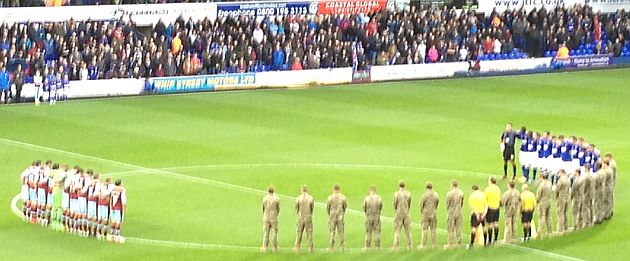 Nothing went right for them with the boiling Kettle refereeing the game. He yellow carded five Leeds players and also sent off Jason Pearce for a foul on Almen Abdi. That left Leeds to play with ten men for the second half and that was reduced to nine when Rodolph Austin was stretchered off with a potential serious injury.
Is Warnock close to the end at Leeds? I'm beginning to think that might be the case. The takeover remains imminent but it would not come as a surprise if they didn't dispense with his services once it's completed.
Another manager under pressure is Derek McInnes. Tipped by some to get the Burnley job in January 2011, McInnes went to Bristol City soon afterwards. I got the impression during our recent trip to Ashton Gate that he's not that popular.
That night we inflicted on them a third successive defeat and extended their run without a win to six games. Those runs have continued with four more defeats since.
Their last win came in mid-September at Peterborough and such has been their poor form that they've now well and truly in bottom place, a point behind Peterborough. The latest defeat came yesterday, a 2-0 reverse against Charlton at home and alongside everything else they are the only club not to have kept a single clean sheet all season.
Assistant manager Tony Docherty was sent to face the media after this latest defeat but we can confirm that on this occasion their former St. Johnstone manager had not had to go back to Scotland to visit his mum but was talking to his players.
They are behind Peterborough now but all is not well at London Road. Today they issued a statement that read: "Peterborough United are disappointed to report that Gabriel Zakuana, Nathaniel Mendez-Laing, Emile Sinclair and Tyrone Barnett have been transfer listed and fined by the football club following an internal investigation into a breach of club discipline."
They wouldn't confirm what had happened and said there would be no further comment but the BBC have reported that two of those players have been cautioned for an incident in the centre of Peterborough in the early hours of Sunday morning.
Those two now occupy the bottom two places with Ipswich moving up to 22nd following their win against us.
Crystal Palace, winners with two late goals against Peterborough, remain top although they lost that place to Middlesbrough for a few hours after they'd beaten Sheffield Wednesday on Friday night.
Cardiff, Hull, Leicester and Huddersfield are in the play off positions with Huddersfield moving in after a 1-0 win at Barnsley, replacing Blackburn who could only draw at home in Agent Berg's first home game in charge.
Finally, and of great importance, it was good to see all the clubs in the Championship, along with clubs from all other divisions, paying their respects ahead of Remembrance Day. At Ipswich, as at Burnley a week earlier, the minute's silence was impeccably observed.
It's a free midweek with the next Championship games this coming weekend. The latest results can be found along with the next fixtures and all the usual information.
The Results
Friday 9th November

Middlesbrough 3 Sheffield Wednesday 1

Saturday 10th November

Barnsley 0 Huddersfield Town 1

Leeds United 1 Watford 6

Blackburn Rovers 1 Birmingham City 1

Leicester City 2 Nottingham Forest 2

Blackpool 2 Bolton Wanderers 2

Millwall 2 Derby County 1

Cardiff City 2 Hull City 1

Peterborough United 1 Crystal Palace 2

Ipswich Town 2 Burnley 1

Wolverhampton W 3 Brighton & HA 3

Sunday 11th November

Bristol City 0 Charlton Athletic 2
The Stats

Biggest Win

Watford 6-1 v Leeds United (away)

Total Goals Scored

42 (19 home - 23 away)

Player Scoring Most Goals

2 - Matej Vyrda (Watford)

Highest Attendance

28,229 - Middlesbrough v Sheffield Wednesday

Lowest Attendance

9,691 - Peterborough United v Crystal Palace

Total Yellow Cards

24

Total Red Cards

2

Most Cards in a Game

Leeds Unitedv Watford (7Y 1R) Ref: Trevor Kettle
Leading Goalscorers (League Only)

17

Charlie Austin (Burnley) - includes 2 penalties

13

Glenn Murray (Crystal Palace) - includes 6 penalties

9

Tom Ince (Blackpool) - includes 1 penalty
Craig Mackail-Smith (Brighton & Hove Albion) - includes 2 penalties

8

Luciano Becchio (Leeds United) - includes 3 penalties
Marlon King (Birmingham City) - includes 2 penalties
Jordan Rhodes (Blackburn Rovers) - 2 with Huddersfield Town

7

Craig Davies (Barnsley) - includes 1 penalty
Darius Henderson (Millwall)
David Nugent (Leicester City)
Matej Vydra (Watford) - includes 1 penalty
Pete Whittingham (Cardiff City) - includes 3 penalties

6

Sone Aluko (Hull City)
Steven Davies (Bristol City) - includes 1 penalty
Chris Eagles (Bolton Wanderers)
Heidar Helguson (Cardiff City)
Theo Robinson (Derby County) - includes 1 penalty
Liam Trotter (Millwall) - includes 1 penalty
Chris Wood (Millwall)
Hat Tricks
Date

Player & Game

01/09/12

3: Pete Whittingham - CARDIFF CITY v Wolverhampton Wanderers

15/09/12

3: Charlie Austin - BURNLEY v Peterborough United

22/09/12

3: Glenn Murray - CRYSTAL PALACE v Cardiff City

22/09/12

4: Craig Davies - Birmingham City v BARNSLEY

23/09/12

3: David Nugent - LEICESTER CITY v Hull City

29/09/12

3: Emile Sinclair - Hull City v PETERBOROUGH UNITED

02/10/12

3: Charlie Austin - BURNLEY v Sheffield Wednesday

23/10/12

3: Marlon King - Millwall v BIRMINGHAM CITY

06/11/12

3: Glenn Murray - CRYSTAL PALACE v Ipswich Town
Disciplinary Record (League and Cup)

Club

Y

R

Y

R

Club

Y

R

Y

R

League

Total

League

Total

Barnsley

21

1

24

2

Huddersfield Town

27

2

28

2

Birmingham City

17

2

19

2

Hull City

12

0

12

1

Blackburn Rovers

20

0

20

0

Ipswich Town

23

0

23

0

Blackpool

19

0

19

0

Leeds United

32

1

37

1

Bolton Wanderers

31

1

33

1

Leicester City

17

1

17

1

Brighton & Hove Albion

22

0

23

0

Middlesbrough

21

0

24

0

Bristol City

20

0

22

0

Millwall

29

1

31

1

Burnley

28

0

34

0

Nottingham Forest

29

3

29

3

Cardiff City

24

0

26

0

Peterborough United

31

0

32

0

Charlton Athletic

25

0

25

0

Sheffield Wednesday

28

1

31

1

Crystal Palace

21

1

25

1

Watford

31

4

32

4

Derby County

15

1

16

1

Wolverhampton Wanderers

16

1

18

1
Highest and Lowest Attendances

Highest

Lowest

Att

Fixture

Att

Fixture

28,707

Nottingham Forest v Derby County (30/09)

5,435

Peterborough United v Bristol City (18/09)

28,582

Sheffield Wednesday v Leeds United (19/10)

6,188

Peterborough United v Millwall (21/08)

28,229

Middlesbrough v Sheffield Wednesday (09/11)

6,348

Peterborough Utd v Huddersfield Town(23/10)

27,437

Derby County v Sheffield Wednesday (18/08)

8,088

Barnsley v Bristol City (01/09)

26,598

Sheffield Wed v Bolton Wanderers (22/09)

8,195

Barnsley v Crystal Palace (23/10)

26,594

Brighton & HA v Sheffield Weds (14/09)

8,319

Barnsley v Peterborough United (02/10)

26,402

Brighton & Hove Albion v Leeds United (02/11)

8,427

Peterborough Utd v Derby County (29/10)

26,293

Brighton & HA v Middlesbrough (20/10)

8,571

Barnsley v Ipswich Town (29/09)

26,185

Charlton Athletic v Barnsley (20/10)

9,258

Millwall v Birmingham City (23/10)

26,121

Brighton & HA v Birmingham City (29/09)

9,280

Peterborough Utd v Wolves (22/09)
The Next Fixtures
Saturday 17th November

Birmingham City v Hull City

Huddersfield Town v Brighton & Hove Albion

Bolton Wanderers v Barnsley

Leicester City v Ipswich Town

Bristol City v Blackpool

Nottingham Forest v Sheffield Wednesday

Burnley v Charlton Athletic

Peterborough United v Blackburn Rovers (17:20)

Cardiff City v Middlesbrough

Watford v Wolverhampton Wanderers

Crystal Palace v Derby County

Sunday 18th November

Millwall v Leeds United (13:15)