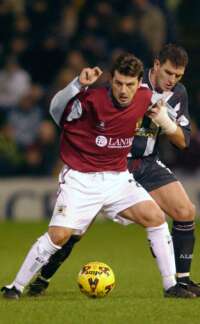 Robbie Blake - could get first start
With Glen Little, Paul Weller and Robbie Blake all getting into the action at some stage on Sunday it will have moved them all that bit closer to full fitness and one, two or all three of them could start tonight at Watford.
Alan Moore though is expected to miss the game although there has been all different reports on the injury he picked up on Sunday. It has gone from a hamstring injury to a back injury and initially it was thought that he would be out for four weeks.
Yesterday though the club said he wasn't training but a late decision would be made as to whether he would be in the squad. That does suggest that the injury is not too serious and although I do expect him to miss out tonight it does mean there is a good chance he will be in contention on Saturday.
Other than that no other injuries have been reported and our current walking wounded are not ready for action. In fact Nik Michopoulos has returned to Greece for a while with him expected to be out of the running for the next few weeks whilst Steve Davis and Andy Payton are both making good progress although not close to a return as yet.
What will the starting eleven be though? It is getting more difficult to call and for Sunday's game against West Brom I was only one out, I had Glen Little in before Paul Cook. This time I think Glen will replace Cooky from the start and Paul Weller will probably come in for Alan Moore.
There has also been speculation that Robbie Blake will come in up front, probably at the expense of Ian Moore. Mooro is the only ever present left now in the league for the Clarets but I would not be surprised to see him on the bench tonight.
If that is all the case then the starting line up would be the team that finished on Sunday: Marlon Beresford, Dean West, Ian Cox, Arthur Gnohere, Lee Briscoe, Paul Weller, Kevin Ball, Tony Grant, Glen Little, Robbie Blake, Gareth Taylor. That would mean a bench selected from Gordon Armstrong, Lenny Johnrose, Paul Cook, Ian Moore, Brad Maylett, Dimitri Papadopoulos and Luigi Cennamo. As for the bench a lot will depend on whether Stan wants to gamble with no keeper again.
Watford are waiting for a fitness check on Micah Hyde who was out last week through an illness. He is now back in training and a decision will be made as to whether he is back to full fitness. They do have one player returning though, Stephen Glass who has been out suspended.
With one player back from suspension another misses out for the same reason, Heidar Helguson whilst Paul Robinson, Paolo Vernazza and Neil Cox are still all out injured.
Check out more on Watford in our Match Preview