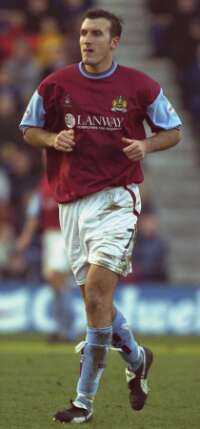 Glen Little - could return
Glen has been at Lilleshall this week and did train with the squad on returning, it is now just a question whether he is considered fit enough to play. I wouldn't be surprised if Stan doesn't put him on the bench and then hope to ease him back in with a short spell towards the end of the game.
None of the other injured players are set for a return. Lenny Johnrose is close to fitness, Paul Weller told the Cricket Club forum this week that he expects to return to full training next week and Mitchell Thomas is back in training but in need of some more games in the reserves. That really leaves captain Steve Davis who is still some way short of fitness although the latest estimates suggest he might only about a month away.
New signing Robbie Blake is not available of course. Apart from the fact that he is injured and apart from the fact that he wasn't signed in time (there is a seven day deadline for FA Cup ties) he is cup-tied and that means he won't feature in any FA Cup games for the Clarets this season.
I suspect that we probably will see Glen, if fit enough, on the bench and my tip is that there will be just one change from the side that lost at home to Sheffield Wednesday with Paul Cook returning in midfield and Lee Briscoe going to full back at the expense of Graham Branch.
That would give us a line up of: Nik Michopoulos, Dean West, Ian Cox, Arthur Gnohere, Lee Briscoe, Kevin Ball, Tony Grant, Paul Cook, Alan Moore, Ian Moore, Gareth Taylor. The five subs would then come from Luigi Cennamo, Gordon Armstrong, Glen Little, Brad Maylett, Dimitri Papadopoulos and Graham Branch.
Cheltenham also have a couple of long term injuries to contend with in Keith Hill (hernia) and Richard Walker (knee) but other than that they have a full squad of players to choose from. They picked up no further injuries on Wednesday against Darlington and expect to be unchanged from that game when they lined up: Steve Book, Tony Griffin, Mike Duff, Chris Banks, Jamie Victory, Lee Williams (Neil Grayson 75), Mark Yates, Lee Howells, Russell Milton, Julian Alsop, Tony Naylor (Martin Devaney 75). Subs not used: John Brough, Shane Higgs, Neil Howarth.
Take a look at Cheltenham in our MATCH PREVIEW