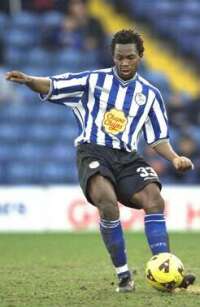 David Johnson - set for debut
There are certainly four players unavailable to Stan and possibly a fifth for a variety of reasons. Lenny Johnrose and Graham Branch are both out with injury whilst Gareth Taylor sits out the first match of a two match suspension. To add to that Paul Gascoigne did not sign in time to be able to play and Steve Davis is doubtful with the injury he picked up at Stockport.
There has been mention that this is a re-occurrence of the injury that kept the captain out for four months but this is not the case and Stan has confirmed that it is a calf injury. He did admit though that he was a major doubt.
One new signing is in the squad though, Nottingham Forest's David Johnson and if the fans have a say then he will start, he was the most popular choice to start in front in our Latest Poll ideally with Ian Moore.
Dean West is also available again after missing out at Edgeley Park suspended and although Mark McGregor did well on his debut I expect Fred to return to the starting line up. Glen is also available again and he will probably come back in with Lee Briscoe moving to left back.
The starting line up could be something like: Marlon Beresford, Dean West, Ian Cox, Mitchell Thomas, Lee Briscoe, Glen Little, Paul Weller, Kevin Ball, Tony Grant, Ian Moore, David Johnson. Subs from: Nik Michopoulos, Gordon Armstrong, Mark McGregor, Brad Maylett, Alan Moore, Paul Cook, Andy Payton, Robbie Blake.
The Preston line up will of course be the first team picked by new manager Kelham O'Hanlon and he has back from injury. Sean Gregan is no longer suspended but he along with Colin Hendry and Paul McKenna are carrying knocks and O'Hanlon says he will wait as long as possible to give them a chance.
For more on Preston see our Match Preview