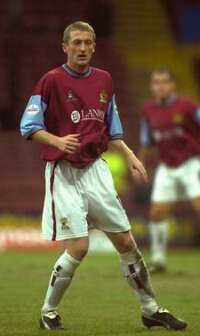 Tony Grant - doubtful
Grant pulled up in front of the Bob Lord Stand just before half time on Saturday with a hamstring problem, this for the second Saturday in succession, and is rated a major doubt for tonight's game. Again we didn't send him back out for the second half and as such will have minimised the problem as much as possible.
Robbie Blake will be in the squad despite rumours, also seen here, that he was facing a hernia operation. Stan was upset that the media seemed to get hold of this after Blake came on and within 20 minutes went off on Saturday but Stan needs to be looking a lot closer to home for this one albeit not in the dressing room. The conflicting news coming out of Turf Moor, both official via the web site and unofficial, left everything open to speculation and even the Nationwide's web site reported the fact that he needed an operation.
Stan has now said that he is fit and will be in the squad tonight although I would think he could well be on the bench again. I expect Ian Moore to come in for Grant and the Clarets to revert to a 4-4-2 formation. Another option could be to recall Paul Cook into the midfield or we could start with Robbie Blake against his former club.
The squad is getting stronger fitness wide almost daily and the earlier reported news that Payts and Steve Davis are now at different stages of their comebacks is further good news. Lenny Johnrose has a calf injury as has keeper Nik Michopoulos.
If, as expected, Tony Grant doesn't make it then I expect Burnley to line up in 4-4-2: Marlon Beresford, Dean West, Ian Cox, Arthur Gnohere, Lee Briscoe, Glen Little, Paul Weller, Kevin Ball, Alan Moore, Ian Moore, Gareth Taylor. Subs: Gordon Armstrong, Graham Branch, Robbie Blake, Brad Maylett, Paul Cook.
If we thought we had injury problems at stages this season then it is fair to say that our opponents tonight Bradford City are going through a similar problem. Definitely out of tonight's game are: Gary Walsh, Aiden Davison, Gunnar Halle, Robert Molenaar, Peter Atherton and David Wetherall whilst Lee Sharpe is rated very doubtful and has not been named in the sixteen man squad.
With both keepers, Walsh and Davison, out Alan Combe has come in from Dundee United on loan and last week Blackburn's Simon Grayson joined on loan to strengthen the defence. Manager Nicky Law says he has just seventeen players available to him and so these are the seventeen he has named in his squad for tonight.
Those sixteen are: Alan Combe, Simon Grayson, Wayne Jacobs, Lewis Emanuel, Andy Myers, Andy Tod, Stuart McCall, Gareth Whalley, Gary Locke, Claus Jorgensen, Ashley Ward, Gareth Grant, Eoin Jess, Jamie Lawrence, Mark Bower, Juanjo, Jon Worsnop.