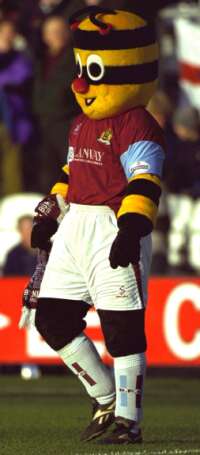 Bertie - could be in the squad tomorrow given the extent of the injury crisis
What we know for sure is that Steve Davis and Mitchell Thomas are still out with long term injuries and they have been joined by Glen Little (hamstring), Gareth Taylor (ankle), Andy Payton (thigh) and possibly Paul Weller (hamstring) who will all be missing tomorrow. Reserve team player John Williamson is also out as is Lenny Johnrose. The one piece of good news is that Graham Branch came through the reserve team game on Wednesday with no ill effects and should be in the squad.
With Weller's injury known to the coaching staff it was probably the reason Dimitri Papadopoulos started the reserve game on the right hand side but if that was the case the experiment lasted just two minutes. Dimitri moved into the middle when Payts went off and sub Anthony Shandran went on the right.
Shandran himself travelled with the team on Boxing Day to Rotherham but it is unlikely that, even with the current injury situation, he will feature tomorrow.
Assuming Paul Weller is out, and latest news indicates he will be then I think Graham Branch will come back in at left back in a 4-5-1 formation with a starting line up of: Nik Michopoulos, Dean West, Ian Cox, Arthur Gnohere, Graham Branch, Kevin Ball, Tony Grant, Lee Briscoe, Alan Moore, Paul Cook, Ian Moore. That would leave the subs bench looking something like, Luigi Cennamo, Gordon Armstrong, Brad Maylett, Dimitri Papadopoulos, Tony Ellis.
That only leaves Mark McGregor (who apart from being on the bench at Forest has just not been considered for league action), Anthony Shandran and Mark Rasmussen from the full time pros not in that squad and not injured.
Wimbledon are less hampered with players missing and the latest news suggests only three players will be unavailable to them. Midfielder Hakan Mild is definitely out with injury and they have two players suspended – goalkeeper Kelvin Davis and full-back Jermaine Darlington. They are expected to be replaced by Ian Feuer and Peter Hawkins who both played in the Cup tie against Middlesbrough in midweek.
Don't forget to check out our Match Preview for a look at Wimbledon's season so far.