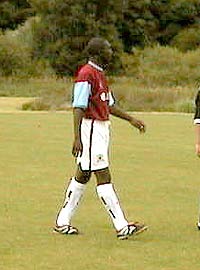 Youth team captain Earl Davis who scored the late equaliser
The game was played on Chester's ground, the Deva Stadium but the Clarets were unable to beat their non league opponents. In fact we had to come from behind to earn a point.
Mark Rasmussen had scored for the Clarets but with time running out we found ourselves 2-1 down and introduced captain Earl Davis as a substitute. Earl went up front and in the very last minute of the game scored his first Merit League goal to earn the Clarets a point.
We will bring you the completed league table for the Merit League next week but we can confirm that the young Clarets have finished in second place five points behind the winners Oldham Athletic.
It brings Burnley Football Club's season to an end now and once again nothing but praise for the youngsters who have done well and have been, with some excellent performances and exemplary attitude and discipline, a great credit to our club.
Clarets results in Youth Alliance League
Clarets results in Merit League