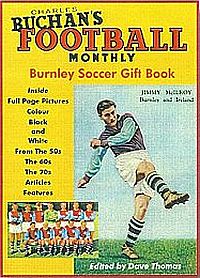 The book, compiled by Dave Thomas, provides a tribute to Charles Buchan and Burnley in the days when Burnley were a real force in the land and countless truly great players graced Turf Moor. It includes most, if not all, of the pictures and articles featuring Burnley from the days of the Charles Buchan's Football Monthly.
The players featured include current club president Jimmy McIlroy, Jimmy Adamson, John Angus, Ray Pointer, John Connelly, Willie Morgan, Andy Lochhead, Les Shannon, Jimmy Robson, Colin McDonald and Frank Casper.
The book will be limited to 1,000 copies and you can still subscribe. Please contact Dave Thomas at beehivethomas@aol.com for more details.