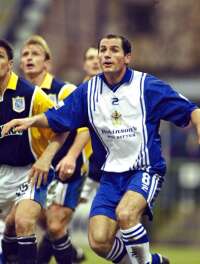 Shefki Kuqi - climbs one place in Division One
Kuqi has shown unbelievable ambition by jumping ship at a cash strapped club at the bottom of the First Division to join a cash strapped club next to bottom of the First Division. Sheffield Wednesday are a club that give no clues that they are any more professional than Stockport either.
With both the Unprofessionals and surprisingly Burnley releasing figures we can now tell you what Kuqi has cost and what Burnley offered.
The Stockport official site have announced that they have received £700,000 for him with an option of a further £300,000 and they claimed yesterday that the Wednesday offer was better than ours.
There had never been confirmation from Burnley that an offer had been made, although Mr. Hell-Wood was quick to tell us, but today via Club Call we have now admitted to making a £500,000 offer with a further £500,000 depending on promotion. And as Stan says, "If you want to know what's going on, ring this number". So Club Call must be official.
Another of our targets Robbie Blake is currently out with an injury and is not expected to play again this month. Stan has talked today about the possibility of a loan signing but he is looking long term at any signings and not for a quick fix to get us round the current injury crisis.
Kuqi will be back at the Turf by the way next week, this time with Wednesday.