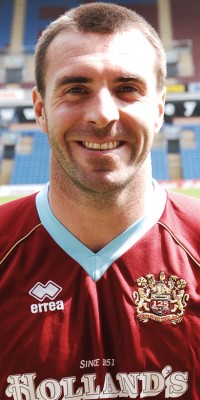 David Unsworth - up to fifth
Kiraly, who was in good form and made one world class save from James Beattie in the first half, was the winner in the player ratings on the message board, claiming an average of 8.50 out of 10 for his performance.
David Unsworth, who marshalled the defence so well and also had a goal disallowed, was right behind him with an average rating of 8.30 whilst right back Graham Alexander, who probably had his best game in Burnley colours, was third with an average of 8.00.
The top two were reversed in the man of the match poll with Unsworth winning it with 42.0% of the vote and Kiraly claimed second place with 31.0%. So much were they ahead of the rest that striker Andy Gray, who took third place, had only a 5.1 share of the vote.
Both Kiraly and Unsworth score five points towards the Clarets Mad Player of the Year and that's moved them both up the table into the top seven with Unsworth now in fifth place. Robbie Blake is still the clear leader, some six points clear of Clarke Carlisle.
The current points totals are;
28: Robbie Blake
22: Clarke Carlisle
20: Alan Mahon
18: Kyle Lafferty
16: David Unsworth
15: Andy Gray & Gabor Kiraly
13: John Spicer
12: Steven Caldwell & Brian Jensen
11: Chris McCann
6: Wade Elliott
3: Graham Alexander & Michael Duff
2: Ade Akinbiyi & Wayne Thomas
1: Stephen Jordan