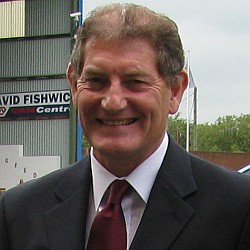 Martin Dobson - has confirmed the offers to Michael King and Dominic Knowles
King will be the better known amongst supporters because of his winning appearance on Soccer AM last season in the skills feature, but both he and Knowles have progressed well to be offered these deals.
Director of Youth Martin Dobson said today: "It's an exciting time for them and they have deserved this chance. We have kept first team manager Brian Laws involved with everything and he's happy with these decisions. We will sit down with the two players at the end of the season and talk about the next twelve months.
"This is a further part of their development and they have to move on into the real world now. There is a lot of hard work ahead and it is a fantastic opportunity for them."
As an avid watcher of youth and reserve team football I'm always delighted to see some of our young players being given contracts, but at the same time it is always a sad day when you know some of the players will be leaving the club.
This year four players will leave at the end of their apprenticeships and all have played their part over the last two years. They are goalkeeper Danny McDonald, left back Jake McEneaney, midfielder Oliver Devenney and striker Liam Newman.
I would personally wish them all the best in the future with the hope they can get fixed up with other clubs.
Our two new players have been added to the
Past/Present Players
section.