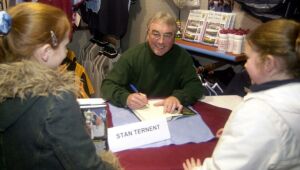 Stan Ternent signing books last week but now ready to look for loan players
He has said all along that the squad is good enough provided we can avoid too many injuries and suspensions but unfortunately we have avoided neither.
Already without Lee Briscoe, Paul Cook and Steve Davis along with squad players Gordon Armstrong and Andy Payton (all injured) we were further hit on Saturday with three players picking up suspensions that will see them miss the FA Cup tie at Grimsby.
Add to that the fact that Marlon Beresford will be out of contract and possibly on his way at the beginning of next month and we are reaching crisis point.
Matthew O'Neill and Mark Rasmussen travelled with the squad on Saturday with Ras making the bench but with more players out some of the youngsters could get a run out at Blundell Park even if new players are brought in.
In his after match interview he admitted to not having spoken to the Chairman in weeks but told him bluntly that if we didn't strengthen the squad then gates would drop, implying that the finances would then be even worse. He went on to say that they needed to sit down and draw up some priorities.
Much depended on how the Chairman and his directors would react and it was obvious that the matter would be high on the agenda at this morning's board meeting.
With Barry Kilby having already said that any money available would only be used in an emergency it wasn't expected that Stan would get anything but once again it looks as though he has won the day and the Chairman has now said that loan players could be brought in.
Barry Kilby said today, "With the injury crisis we now also have yellow and red cards building up so loan players are an option we have to look at. But there are a lot of factors involved such as the quality of players, the availability and the cost involved."
That's not a cast iron guarantee but I would expect that Stan would see that as the green light to move. Maybe the Wolves game on Thursday could be too close for him to sort anything out but I wouldn't be surprised to see a couple of new faces in the squad at the Withdean Stadium on Saturday.
The major problem will still come the week after at Grimsby though with any loan players likely to be ruled out of playing in cup games.
It's just a matter now I would think of watch this space as Stan looks to bolster our depleted injury hit squad.