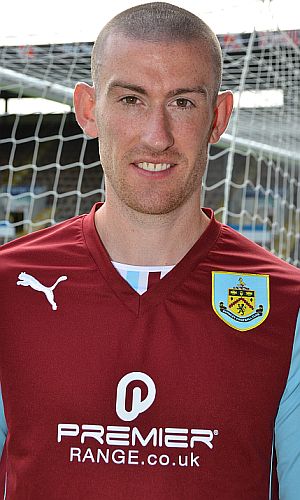 Man of the match winner David Jones
They were the top two in both the man of the match vote and the player ratings and it was Jones, who has already won one man of the match vote at York, who was out in front.
He polled 33.1% of the vote with Treacy in second place with a 23.1% share. Captain Jason Shackell was third and with 10.9% of the vote was the only other player to reach double figures. Dean Marney, with 8.1% of the vote, took fourth place.
It was the same three players at the top of the player ratings but the top two swapped places. This time it was Treacy, who came on as a substitute to open the scoring, who came out on top. He had a rating of 7.46 out of 10, just ahead of the 7.44 rating obtained by Jones.
Again Shackell was third. He had a rating of 7.21 and there was one more rating above the seven out of ten for a good performance. That went to Scott Arfield who came on at the same time as Treacy. He scored a rating of 7.03 out of 10.
Both Jones and Treacy won eight points towards the Clarets Mad Player of the Year. There were four points for Shackell which kept him at the top with a lead of six points over Jones. Both Arfield and Marney collected one point and for both it was their first point of the season.
The next vote will be for the Brighton game and will be online within an hour of the final whistle at the Amex on Saturday.
The result from the Yeovil game is below along with the current player of the year table.
MAN OF THE MATCH
33.1% - David Jones
23.1% - Keith Treacy
10.9% - Jason Shackell
8.1% - Dean Marney
6.6% - Kevin Long
5.6% - Sam Vokes
3.8% - Tom Heaton
3.1% - Scott Arfield
1.9% - Kieran Trippier
1.6% - Danny Ings
0.9% - Ross Wallace
0.6% - Danny Lafferty & Junior Stanislas
PLAYER RATINGS
7.46 - Keith Treacy
7.44 - David Jones
7.21 - Jason Shackell
7.03 - Scott Arfield
6.95 - Tom Heaton
6.64 - Dean Marney
6.59 - Kieran Trippier
6.56 - Kevin Long
6.33 - Sam Vokes
5.82 - Danny Lafferty
5.51 - Danny Ings
4.26 - Ross Wallace
4.23 - Junior Stanislas
CLARETS MAD PLAYER OF THE YEAR
24: Jason Shackell
18: David Jones
13: Kieran Trippier
11: Tom Heaton
8: Keith Treacy
7: Danny Ings
3: Kevin Long & Sam Vokes
2: Junior Stanislas
1: Scott Arfield & Dean Marney