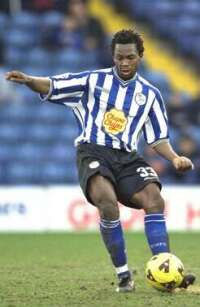 David Johnson seen here in action for Sheffield Wednesday
The last time a Johnson played for the Clarets was in the 1948/49 season when Bob Johnson played his last game for us but the name has been doing the rounds today causing some confusion.
Damien Johnson is set to leave Ewood Park and it is widely believed that Burnley have made a bid for him but whether we have or not he won't be making the short journey down the M65 after agreeing to a move to Birmingham. He said he was looking to get back into the Premiership as soon as possible so his decision to sign for Steve Bruce at St. Andrews (yes we believe that Steve Bruce is still manager) does seem to be a strange one.
He is set to sign a deal there until the end of the 2004/05 season so we can forget him which given the current climate at the Turf is probably not a bad thing. With certain players clearly being picked on could you imagine what would happen if a signing from Blackburn got off to a bad start?
The second Johnson is Nottingham Forest's David Johnson and a player Stan knows a lot about. He signed him for Bury on a free transfer and then sold him to Ipswich for £1.1 million. Johnson did a great job for Ipswich in the First Division but has been a disappointment at Forest where he has scored just five goals since signing for them for £3 million in January of last year.
He has recently been on loan at Sheffield Wednesday but Forest have now recalled him. They are looking to get him off the wage bill and a player who cost so much at the beginning of last year is now expected to leave on a free transfer. Stan knows all about him and knows he is capable of doing a great job at this level.
Still just 25 he has now played in 275 league games scoring 80 goals and 55 of those came in 131 appearances for Ipswich. This is not the first time we have been linked with him but a move a year ago was impossible when Ipswich were looking for £3 million.