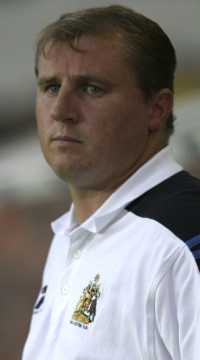 Paul Jewell - out of order

But that's not the case and we have had another offer from the sports shop which has been rejected but not only that, their manager Paul Jewell was well out of order on Granada's Soccer Night last night.



After showing his goals from last Saturday ITV's objectionable Alistair Mann allowed himself to be pushed into a discussion on Robbie's future and Jewell waded in with comments such as them not being prepared to match what we want and yet again his favourite that Robbie does want to play for Wigan.



Given that they cannot possibly have approached our player, otherwise it would be an illegal approach, it does make you wonder just how they have seemingly found out who Robbie does and doesn't want to play for.



With even more information leaking out of the Concrete Jungle this morning Burnley have again had to announce the turning down of a fourth bid. This time it is £700,000 plus another £300,000 if they go up.



It is all getting very much out of order, Steve Cotterill yesterday received a touchline ban for his behaviour at the home game with Gillingham, surely this is much, much worse from Jewell but they continue to get away with it.



Steve Cotterill said of the situation, "With all the speculation that's been flying round when you pick up the newspapers, that doesn't help. I'd rather read about Robbie Blake getting the headlines scoring more goals for us other than anything else at the moment."



I just hope Steve has that car boot locked.