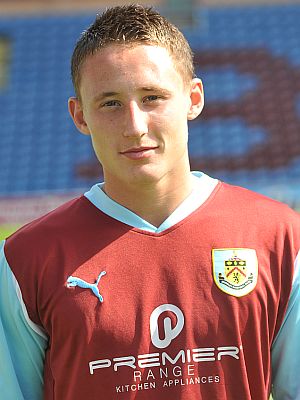 Joe completed a two year scholarship with the Clarets last season. He led the line for the youth team last season in particular, scoring thirteen goals in the various competitions.
His form won him his first professional deal at Turf Moor but the day after he was awarded the contract he suffered a metatarsal injury and that kept him out of action until November.
I know the staff at Burnley were hugely impresses with his attitude during this period. He did everything asked of him, kept his enthusiasm during a few months of not being able to play, and they, along with his team mates, were delighted for him when he returned to action as a substitute for the reserves and scored.
His coach, Jason Blake, said after that game: ""I think I have to mention Jacko and how hard he has worked. We talk about players who are out of the team and who are injured and if you need one player to give a good example of the attitude you need to see, I think Jacko is a shining example.
"To score that goal meant a lot to him and it is good recognition for the efforts he has made and his patience to come back from the injury."
I spoke to Blake that week and said I wasn't at all surprised at what he'd had to say. Joe was a guest at last season's Clarets Mad Dinner and sat our table. That attitude shone through then. He was a delight to have sat at our table alongside his team mates Dave Lynch, Joe McKee and Ross Wilson.
Just over two weeks ago, with two substitute reserve appearances under his belt, he went out on loan to Barrow for a month to get some competitive football. He scored on his debut in a big defeat at Fleetwood, coming on a substitute, and he repeated that this week with a goal to earn them a point at home to Grimsby Town.
I think it is very fair to say Barrow, Joe's home town club, are happy to have him at Holker Street, and, following his goal against Grimsby, manager Bayliss said: "We'd love to keep Joe longer and Burnley are delighted with him being with us.
"That's two goals in four games, three of which were substitute appearances, and we'll be on the phone to Burnley to see what we can do. We'd love to keep him until the end of the season and I'm sure Joe would love to stay, but that's down to Burnley.
"We are not paying a penny of his wages, as I've said before, but he's learning stuff here all the time, getting used to playing in physical games and all that will help in the future."
He added: "We're delighted with Joe. He is the most enthusiastic footballer for a young lad that I have seen in my life. We have to drag him off the training pitch. He would train for five or six hours a day if you let him. He's only a young kid, but that attitude will get him far in football."