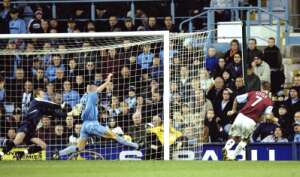 Glen Little's November Goal of the Month
In August you couldn't separate two goals from a cholce of 6 goals and they both won 38.2% of the vote. The first of these was our first league goal of the season scored by Gareth Taylor at Sheffield Wednesday and the second was Alan Moore's at Millwall, his first goal for the club.
September was difficult due to the fact that the voting poll had to be limited to eight choices. We scored so many goals during the month that goals such as Glen Little's second at Bradford and his second at Birmingham weren't even selected. There was clear winner from the eight choices and it was Paul Cook's wonderful chip for the fifth goal against Walsall. Cooky's goal claimed 36.3% of the vote with Glen Little's first at Birmingham running him close with 31.8%.
Into October and there were only three choices, that's all that was left once we had removed the penalties and the own goal. There was no real challenge to Cooky this time though and he collected 72.4% of the vote for his winner against Crystal Palace, the one that Steve Bruce thought was a fluke.
Cooky also played a major part in November's goal, our second in the 2-0 win at Coventry and scored by Glen Little. It was Cook who played the ball to Glen from the free kick some 10 yards or so from the Coventry goal line. It was a fantastic goal that nobody could have expected least of all the Coventry defenders. The pass from Cooky basically put all eleven Coventry players out of the game. From seven choices it won 41.1% of the vote with Gareth Taylor's goal against Sheffield United second with just 17.3%.
'King Arthur has done it again'. So said Guy Havord on ITV Sport's live coverage of our victory at Preston as Arthur Gnohere scored the winning goal. There were eight choices and it wasn't even close. Arthur won 69.1% of the vote with Glen Little's goal in the same game second with just 12.1%
That's six goals so far then scored by Gareth Taylor, Alan Moore, Paul Cook (2), Glen Little and Arthur Gnohere.
And so with our January games complete we can choose our goal for this month. Gareth Taylor's penalty against Sheffield Wednesday was our only league goal of the month and so all the choices will be from our FA Cup ties.
The voting poll will be available until midnight on Saturday and can be found at the top on the right hand side of the front page. Don't forget to cast your vote to find the next winner for our Goal of the Season vote.