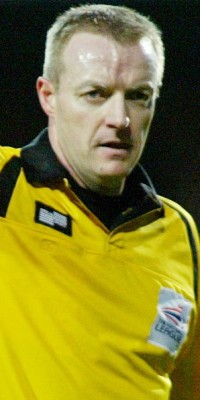 The 46-year-old Kettle became a Football League referee at the start of the 2003/04 season and he quickly built up a reputation for his willingness to pull his cards out of his pocket. In his first 23 games he sent off a grand total of 13 players.
He's well past 1,000 cards now in this his 9th season. He's issued 991 yellow cards and 67 red cards. Incredibly in one season(2009/10) there wasn't a single red card.
He's refereed us seven times previously and he was definitely on the boil in the last of them, last season's 2-1 home defeat against Ipswich when he required an escort from the pitch at half time after going card crazy with four yellows on five minutes.
That was nothing compared to a couple of away games. He had the most bizarre of games at Sunderland at the end of the 2006/07 season. It was a cracker of a game in front of the television cameras that we lost 3-2 but Kettle at times turned it into a lottery. He gave Sunderland a penalty that wasn't then evened it up with one for us that was every bit as much a bad decision.
There were several other poor decisions that night. In the promotion season I remain unconvinced that Steven Caldwell should have been sent off at Doncaster and last season at Norwich he failed to spot the most blatant of handballs in stoppage time which allowed Norwich to grab a late goal and a point in a 2-2 draw.
For whatever reason he didn't referee a game this season until the Saturday before Christmas. He soon got going with seven cards in three games before the New Year. Since, he's slowed down with only eight yellow cards in four games.
There have been 23 yellow cards, 11 to home players and 13 to away players and one red card, that to AFC Wimbledon's Christian Jolley in their 4-1 home defeat to Southend.
Kettle is currently in 48th place in RATE THE REF and he has the lowest overall score for fitness and positioning which is hardly a surprise for a referee who seems to struggle getting up and down the pitch. His overall rating from three games is 43.53 out of 100.
The assistant referees tomorrow are Carl Brook (East Sussex) and David Woolford (Hampshire). The fourth official is William Bull (Hampshire).
Previous Burnley Games
Season

Opponents

V

Res

Y

R

Burnley Players Carded

2004/05

Cardiff City

a

0-2

1

0

n

Valois

2005/06

Plymouth Argyle

h

1-0

0

0




2006/07

Sunderland

a

2-3

6

0

n

Caldwell, Duff, Djemba-Djemba, Gudjonsson

2007/08

Crystal Palace

h

1-1

1

0

n

Mahon

2002/03

Doncaster Rovers

a

1-3

3

1

n

Jordan, Carlisle

n

Caldwell

2010/11

Norwich City

a

2-2

2

1

n

Elliott

2010/11

Ipswich Town

h

1-2

7

0

n

Wallace, BIkey, Delfouneso