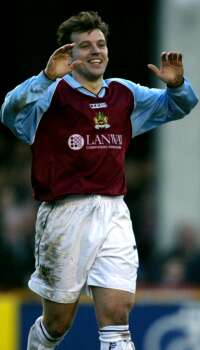 Robbie Blake celebrates his goal at Brentford
All those selected were for performances in the FA Cup in a week when the who Team of the Week idea became a complete farce.
There is no doubt that somebody would have had to have had an unbelievable performance in goal to oust Marlon after his heroics at Griffin Park and it really would have been a shock to find someone else taking the position.
It has to be something of a surprise to see Driss Diallo missing again but some of the neutral observers are still to be impressed by our Guinea international and despite having an excellent game he once again misses out.
But there is a place for Robbie Blake who scored the opening goal of the game early in the second half having come the closest to opening the scoring during the first 45 minutes.
The full team was: Marlon Beresford (Burnley), Marcus Gayle (Watford), Neil Cox (Watford), Joleon Lescott (Wolves), Robert Page (Sheffield United), Paul Smith (Gillingham), Micah Hyde (Watford), Phil Mulryne (Norwich), Andy Hessenthaler (Gillingham), Robbie Blake (Burnley), Paul McVeigh (Norwich).
Did I say these teams were a complete farce?
Judge for yourself but Darren Wrack had an excellent game in MIDFIELD for FIRST division Walsall and has been rewarded with a place in the SECOND Division Team of the Week as GOALKEEPER.
Maybe Marlon was fortunate to claim the position in the First Division team after all.