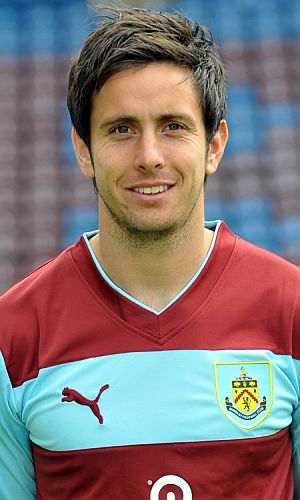 Stock, who hardly figured at the start of the season, has featured regularly since Eddie Howe left and he's made the most of it with some excellent performances. In particular at Ipswich he stood out in a first half that Burnley dominated.
He polled 20.6% of the man of the match vote to win it over Michael Duff who was second with a 14.0% share. Dean Marney took third place with 12.5% and defenders Jason Shackell and Danny Lafferty shared fourth place with 8.8% of the vote each.
The player ratings saw Stock come out as the only player with a rating over seven. He scored 7.22 out of 10 to take first place. Two defenders took the next two places. Shackell was second with 6.78 and a rating of 6.67 gave Lafferty third place.
Goalkeeper Lee Grant came in for some criticism for his part in Ipswich's first goal but his overall performance was still enough to give him fourth place with a rating of 6.44 out of 10.
The result gave Stock another ten points in the Clarets Mad Player of the Year Table. Shackell won four points, there were three points for both Duff and Lafferty, two for Marney and one point for Grant.
Stock has now moved into third place in the table. He's now just 15 points behind Grant who remains some distance behind leader Charlie Austin.
The next man of the match vote will be for the Charlton game and will be available for your votes within an hour of the final whistle on Saturday.
The result from the Ipswich game, and the current player of the year table, can be found below.
MAN OF THE MATCH
20.6% - Brian Stock
14.0% - Michael Duff
12.5% - Dean Marney
8.8% - Danny Lafferty & Jason Shackell
8.1% - Lee Grant & Chris McCann
5.9% - Junior Stanislas
3.7% - Charlie Austin & Kieran Trippier
2.9% - Marvin Bartley
1.5% - Martin Paterson & Ross Wallace
PLAYER RATINGS
7.22 - Brian Stock
6.78 - Jason Shackell
6.67 - Danny Lafferty
6.44 - Lee Grant
6.33 - Dean Marney & Chris McCann
6.22 - Junior Stanislas & Kieran Trippier
6.11 - Michael Duff
5.56 - Ross Wallace
5.11 - Marvin Bartley
5.00 - Charlie Austin
4.89 - Martin Paterson
CLARETS MAD PLAYER OF THE YEAR
82: Charlie Austin
59: Lee Grant
44: Brian Stock
39: Dean Marney
37: Ben Mee
30: Chris McCann
20: Kieran Trippier
18: Brian Jensen
17: Jason Shackell
15: Michael Duff & Joseph Mills
14: Junior Stanislas & Sam Vokes
10: Martin Paterson
6: Marvin Bartley
3: David Edgar & Danny Lafferty
2: Steven Hewitt & Ross Wallace