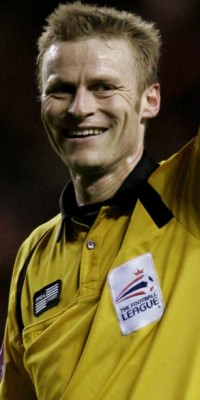 Tonight will be his second Burnley game of the season but should have been his third. He was due to referee our Championship game at Hull in November but illness forced a reshuffle that saw him instead referee the Premier League game between Manchester United and Newcastle at Old Trafford with Anthony Taylor in charge of our game at the KC Stadium.
He did, however, referee our FA Cup exit at Norwich in January and over the years he's been no stranger to him and tonight's game at Leicester will be the 24th time he's refereed us. It might be worth noting too that Jones has a reputation for being a bit of a homer and only once in all those games has the away team come out on top, that being Reading's win at Turf Moor six years ago.
Those games have seen some red cards; some funny and some downright ridiculous. The funniest was the first, that of Coventry's Craig Hignett in a game we won 3-1 whilst the ridiculous one was the dismissal of Paul McShane, then with West Brom, for elbowing after a clash of heads with James O'Connor.
Still, a referee who gets caught up in a beach ball incident can be excused the odd poor decision although I'm not so sure Phil Brown would agree with that after Hull's Premier League defeat at the Turf when a whole series of questionable decisions went our way.
This season he's refereed 28 games in total in which there have been 106 yellow cards and nine red cards. Of those yellow cards, 43 have gone to home team players and 63 to away team players.
Jones' last game came on Easter Monday when he refereed the Premier League game at Newcastle as visitors Bolton went toe-to-toe with them. Newcastle won the game 2-0 but the yellow cards were even with one each, Newcastle's Jonas Gutierrez and Nigel Reo-Coker of Bolton.
Michael Jones is currently 16th in the RATE THE REF Table with a rating of 69.61 out of 100.
The assistant referees are William Smallwood (Cheshire) and David Richardson (West Yorkshire). The fourth official is Football League referee James Adcock (Cheshire) who recently refereed the first leg of our FA Youth Cup semi-final against Blackburn Rovers at Ewood Park.
Previous Burnley Games
Season

Opponents

V

Res

Y

R

Burnley Players Carded

1997/98

Brentford

h

1-1

2

0

n

Payton

1998/99

Chesterfield

a

0-1

3

0

n

Cooke

1999/2000

Bristol City

a

0-0

3

0

n

Mullin

2000/01

Wolves

a

0-1

2

0

n

Cooke, Weller

2001/02

Wimbledon

h

3-2

5

0

n

A Moore

2002/03

Coventry City

h

3-1

1

1

2003/04

Walsall

h

3-1

3

0

2003/04

Cardiff City

a

0-2

4

0

n

Branch, Grant, Jensen

2004/05

Stoke City

h

2-2

2

1

n

Duff

n

Duff

2004/05

Reading

h

0-0

1

0

2005/06

Derby County

a

1-2

4

0

n

Akinbiyi, Sinclair

2005/06

Reading

h

0-3

1

0

n

J O'Connor

2006/07

West Bromwich A

h

3-2

5

1

n

Djemba-Djemba, Harley, Elliott

2007/08

Norwich City

h

2-1

3

0

n

Alexander, Unsworth

2007/08

Stoke City

h

0-0

4

0

n

Mahon, McCann

2008/09

Fulham

h

1-0

1

0

2008/09

West Bromwich A

h

3-1

1

0

n

Caldwell

2008/09

Southampton

a

2-2

7

0

n

Paterson, Alexander, Caldwell

2009/10

Hull City

h

2-0

4

1

n

Elliott

2009/10

Fulham

h

1-1

1

0

2009/10

Wigan Athletic

a

0-1

4

0

n

McDonald, Duff, Mears

2010/11

Aston Villa

a

1-2

2

1

2010/11

QPR

h

0-0

7

0

n

Duff, Alexander, Fox, Thompson, Cork

2011/12

Norwich City

a

1-4

2

0