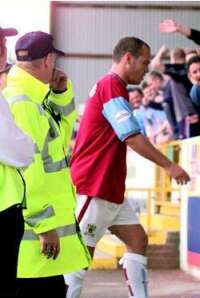 Stretch Armstrong on his way off after wrongly being shown a red card
In the Fair Play League each club is awarded 1 point for every foul conceded, 2 points for every yellow card received and five points for each red card. Once again smart arses Crewe are top of the league but if points were awarded for things like time wasting and yard stealing and questioning decisions they would probably find themselves a lot lower down.
They have conceded less fouls than any side, in fact a lot less. In their league games so far they have conceded just 262 fouls and that is a lot less than the second best Grimsby who have conceded 361. With yellow cards it is the same, they have received just 25 this season and again it is Grimsby in second place with 38.
Not one single Crewe player has been sent off this season and only Preston and Rotherham can match that record. That leaves Crewe top of the list averaging just 10.4 points per game with Grimsby second with 13.3 points.
Burnley are 23rd with only Coventry below them. We have conceded 496 fouls but bottom placed Coventry have conceded 519 and West Brom, not surprisingly, 523. Neither do we lead the way with yellow cards although we have collected 66. Sheffield Wednesday with 71 and Portsmouth 72 have received more.
As far as red cards are concerned only Gordon Armstrong has been sent off this season and that was a crazy decision. It was for handball against Manchester City when everyone else on the ground could see it should only have been a yellow. Sixteen First Division clubs have had more sent off than us and Coventry, KKMC and GVW have all seen seven players sent off.
Our points per game total is 19.2 although Coventry, the real bad boys of the division average 19.8 points per game.
What a load of nonsense it all is but probably at the end of the season Crewe will pick up some winnings for this. I reckon I would much rather be competing at the top of the league.