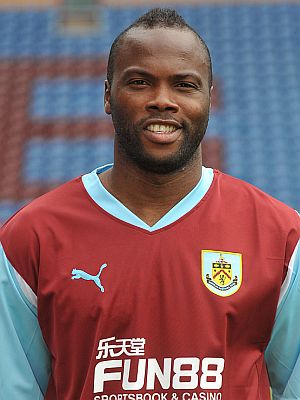 Amougou, signed by Owen Coyle just days after the start of the Premier League, has played a total of 78 games for the Clarets since his debut against Manchester United, but this season, with only nine league starts, has been his least productive.
His last appearance was in the FA Cup at Norwich and his last league appearance came five days earlier as a substitute in the defeat at Leeds. he hasn't started a league game since 1st November when he played against Leicester City.
It's been a long held view that he'd be leaving the club this summer with the termination of his contract and today Howe has said: "He is a high earner and being out of contract I think it's best for Andre he goes and plays his football and then probably looks to find a club.
He'll remain with Bristol City until the last week of the season but, given he hasn't even been considered for reserve games, he's unlikely to feature again in a claret and blue shirt.
Of the other two who went out yesterday, Zavon Hines and Keith Treacy, their Turf Moor futures hardly look too much better although they are protected by contracts until 2013 and 2014 respectively.
The club reported that they could still have futures with us, but no more than that and it appears that Howe wants to see a better attitude from them having said: "It's a chance for them to go out and show what they can do. We don't close the door on them at all.
"They still have a future here if they show while they are on loan that they have got the desire and the fight to come back and play here."
Of Treacy, he said: "He has all the talent in the world. He could be whatever he wants to be. We have seen that in flashes this season but we haven't seen it on a consistent basis.
"Leaving the environment for a spell and getting some games at a lower level will hopefully show everyone what he is capable of and hopefully he will come back here next season a different player.
"We don't lose faith in Zavon. He hasn't been given too many opportunities to play. We do have a good striking department and he has found chances hard to come by.
"This is a chance for him to go to a good club and to play some football and hopefully he can show everybody what he is capable of and then we can take it from there."