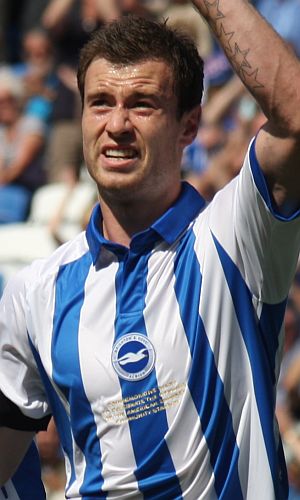 Photograph by James Boyes
I don't think anyone at the time, and that probably includes manager Sean Dyche, thought there would be no replacement in August and still no replacement by the time the loan window closed in November.
Having said that, I don't think anyone at the time would have even considered that by now, over a week into 2014, our two remaining strikers would have scored a staggering 31 league and cup goals between them.
That's relieved the pressure somewhat. Sam Vokes (11 goals) hasn't missed a minute on the pitch whilst Ings (19 goals) was ruled out of the Watford home game but has started every other game.
However, a new striker has always been a priority and at various times a number of names have been thrown into the hat including such as Bolton's Craig Davies, Andy Keogh at Millwall and Sylvan Ebanks-Blake who signed for Ipswich.
One name very much thought to be in the running was that of Ashley Barnes at Brighton, the first of the two players sent off against us at the Amex back in December 2011. It all came to a head, and then to nothing, on the last day of the August transfer window with more than enough evidence to suggest this had more substance to it than just speculation.
It all died a death, but even before the January window opened I was given a tip off that Barnes would again be the main target and so it proved. There's been some to-ing and fro-ing but Wednesday night the news seemed to be that a deal was close.
That was further substantiated yesterday morning until it looked as though Leeds had stepped in with a counter offer.
Then, just after 1 p.m. news from manager Dyche that Barnes was having a medical ahead of a Turf Moor move and that left us just waiting for the confirmation.
That confirmation has now arrived and Ashley Barnes is a Burnley player having signed a deal until the end of the 2016/17 season.
Bath born Barnes started his career in local non-league football with Paulton Rovers but won a trial with Plymouth in early 2007 at the age of 16, impressing enough to earn an 18-month contract.
He made his debut for them as a substitute, coming on for the aforementioned Ebanks-Blake, but soon found himself back in the non-league with Oxford (prior to their return to the Football League), Salisbury and Eastbourne in loan deals.
A loan to League Two club Torquay in February 2010 was to be until the end of the season but he stayed for just a month and then subsequently signed for Brighton on loan where he impressed enough to land himself a permanent deal with the Sussex club.
Since signing permanently he's played over 140 league games for them and was part of the team that won promotion in the 2010/11 season.
He's had his moments though. Besides being one of two players sent off against Burnley on our first visit to the Amex, he was dismissed twice last season, one of them for tripping referee Nigel Miller which earned him a seven match ban.
His last game for Brighton came in their FA Cup win against Reading last Saturday whilst the last of his six goals this season did Burnley a favour; he scored twice in Brighton's 3-1 win against Leicester at the start of December.
Although the 24-year-old is English born to English parents, his one international appearance came for Austria when he played for them in an under-20 game back in 2008 against Switzerland. He qualifies because of an Austrian grandmother on his father's side of the family.