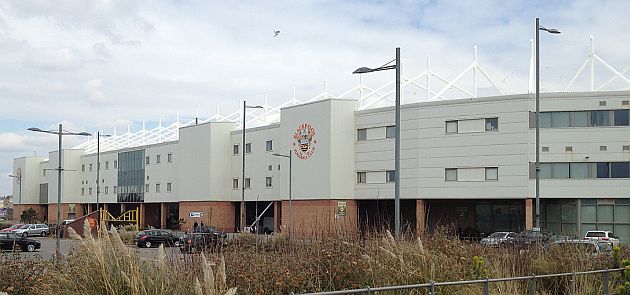 Crisis talks at Bloomfield Road
Imagine how bottom club Barnsley must have felt soon after the final whistle. They'd just ended a run of six games without a win with a 2-0 home win against Blackpool, and more on them shortly.
Although the win could only lift them one place they must have thought they'd edged to within a couple of points of escaping the bottom three, only to find that Yeovil had won at Birmingham, Doncaster had beaten Wigan and Millwall, under the management of Ian Holloway at home for the first time, had won against Ipswich.
It's certainly tightened things up at the bottom with Charlton now just out of the bottom three on goal difference, and this despite now being owned by Standard Liege, a deal that has seen them quickly pluck two players from the Belgian club on loan.
Bolton are hovering not too far above the bottom group and they didn't have the best of days. They lost 7-1 at Reading, becoming the first Championship team to conceded seven goals in a game since Steve Cotterill's Nottingham Forest won 7-3 at Leeds in March 2012.
The big shock result for me though was Doncaster's 3-0 home win against Wigan. Since Wigan appointed Uwe Rösler as manager they've been unbeaten and that's six games. Just an hour before kick off I'd suggested they, above all others, could provide the biggest threat to the top four. And so Doncaster, one point from seven games, go and beat them by such a big scoreline.
Much of the chat on Saturday evening was of the respective futures of Dougie Freedman and Paul Ince, the Bolton and Blackpool managers.
Freedman, I believe, was under some pressure early in the season, but how does a club fund the sacking of a manager and his backroom team when they are over £160 million in debt?
Midfielder Jay Spearing said the players would shoulder the blame, but his manager was adamant that the club needed better players than the ones they've got, but support for the manager is dwindling faster than Owen Coyle was able to score twelve goals for the Trotters.
Even so, the Bolton News are still pointing the finger at the Coyle era and the inability of the club to shift players such as Chris Eagles, Zat Knight, Tyrone Mears, Matt Mills, David Ngog and David Wheater. Far be it for me to defend Coyle but I'm sure he wasn't the one who opted to pay these players such ridiculous wages.
They've always said Blackpool is where you get fresh air and fun. Now I've never been too sure of the fresh air but they are definitely giving us plenty of fun right now.
After the opening games in November they were fourth in the Championship with 27 points from 14 games, an excellent return. A 3-1 defeat at Millwall in September was their only defeat. It came three days after a 2-1 win at Bournemouth when manager Paul Ince's behaviour landed him a five game stadium ban.
They'd just won 1-0 at Forest to start November. During the remainder of the month they won one, drew one and lost one and were still fourth, now with 31 points from 17 games.
31 from 17 has now become 32 from 26. Fourth place has now become 14th place. They've been getting players sent off so often that the suspension list has been horrendous, and their defeat at Barnsley was too much for the fans who turned on Ince and his son Tom at the end of the game.
He was locked in talks with the chairman on Sunday but the latest news seems to be that he's survived and will continue.
I still think Freedman's days are numbered and surely Ince's are; they will be if the Blackpool fans get their way.
Finally this week, the story of Brighton's hunt for a replacement for Ashley Barnes. They targeted Bournemouth's Lewis Grabban and he went for talks with them but opted to remain where he was.
Grabban said: "What some people may not understand is that you have to see what someone else is saying."
Having then returned signed a new contract with Bournemouth, he added: "Footballers doing well, or in any aspect of life if you are doing well, you should be rewarded and that's what has probably happened here."
Grabban had only signed a previous deal with Bournemouth in November to take him to the end of the 2015/16 season. He added that the uncertainty was now resolved, despite him being under contract for another two and a half years, and that he is now relishing his future at Bournemouth.
Not bad that, uncertainty just two months into a new contract.
Last weekend's results and stats are below along with the leading goalscorers, each club's disciplinary record, the highest and lowest attendances and this weekend's fixtures with just four surviving because of the FA Cup.
The Results
Saturday 18th January

BARNSLEY 2 BLACKPOOL 0

LEEDS 0 LEICESTER 1

BIRMINGHAM 0 YEOVIL 2

MIDDLESBROUGH 1 CHARLTON 0

BOURNEMOUTH 1 WATFORD 1

MILLWALL 1 IPSWICH 0

BURNLEY 1 SHEFFIELD WEDNESDAY 1

NOTTINGHAM FOREST 4 BLACKBURN 1

DERBY 1 BRIGHTON 0

QPR 2 HUDDERSFIELD 1

DONCASTER 3 WIGAN 0

READING 7 BOLTON 1
The Stats

Biggest Win

READING 7-1 v BOLTON (home)

Total Goals Scored

31 (23 home - 8 away)

Player Scoring Most Goals

3 - ADAM LE FONDRE (READING) v BOLTON

Highest Attendance

25,392 - DERBY v BRIGHTON

Lowest Attendance

8,331 - DONCASTER v WIGAN

Total Yellow Cards

44

Total Red Cards

2

Most Cards in a Game

DERBY v BRIGHTON (8Y) Ref: ANDY HAINES
Leading Goalscorers (League Only)

17

ROSS McCORMACK (LEEDS) - includes 1 penalty

16

DANNY INGS (BURNLEY) - includes 1 penalty
JORDAN RHODES (BLACKBURN) - includes 3 penalties

15

DAVID NUGENT (LEICESTER) - includes 8 penalties

13

CHARLIE AUSTIN (QPR) - includes 3 penalties

12

CHRIS MARTIN (DERBY) - includes 3 penalties
SAM VOKES (BURNLEY) - includes 2 penalties

11

CRAIG BRYSON (DERBY)
TROY DEENEY (WATFORD) - includes 3 penalties
LEWIS GRABBAN (BOURNEMOUTH) - includes 3 penalties
DAVID McGOLDRICK (IPSWICH) - includes 1 penalty

10

ADAM LE FONDRE (READING) - includes 2 penalties
JAMES VAUGHAN (HUDDERSFIELD) - includes 2 penalties

9

ALBERT ADOMAH (MIDDLESBROUGH)
CHRIS O'GRADY (BARNSLEY) - includes 3 penalties

8

ANDY REID (NOTTINGHAM FOREST)
JAMIE VARDY (LEICSTER)
CONNOR WICKHAM (SHEFFIELD WEDNESDAY)

7

MUSTAPHA CARAYOL (MIDDLESBROUGH)
TOM INCE (BLACKPOOL) - includes 3 penalties
HENRI LANSBURY (NOTTINGHAM FOREST - includes 3 penalties
DARYL MURPHY (IPSWICH)
PAVEL POGREBNYAK (READING) - includes 1 penalty
MATT SMITH (LEEDS)
JAMIE WARD (DERBY)
Hat Tricks
Date

Player & Game

10/08/13

3: TROY DEENEY - WATFORD v BOURNEMOUTH (home)

24/08/13

3: JAMES VAUGHAN - HUDDERSFIELD v BOURNEMOUTH (home)

14/09/13

3: CRAIG BRYSON - DERBY v MILLWALL (away)

21/09/13

4: JESSE LINGARD - BIRMINGHAM v SHEFFIELD WEDNESDAY (home)

10/11/13

4: ROSS McCORMACK - LEEDS v CHARLTON (away)

07/12/13

4: CHRIS MARTIN - DERBY v BLACKPOOL (home)

18/01/14

3: ADAM LO FONDRE - READING v BOLTON (home)
Disciplinary Record (League and Cup)

Club

Y

R

Y

R

Club

Y

R

Y

R

League

Total

League

Total

BARNSLEY

34

3

35

3

IPSWICH

31

1

36

1

BIRMINGHAM

46

2

53

3

LEEDS

40

2

45

2

BLACKBURN

46

3

48

4

LEICESTER

33

1

36

1

BLACKPOOL

47

9

48

9

MIDDLESBROUGH

41

4

43

4

BOLTON

45

1

46

1

MILLWALL

41

4

45

5

BOURNEMOUTH

41

3

44

3

NOTTINGHAM FOREST

56

3

63

3

BRIGHTON

48

2

50

2

QPR

37

1

38

1

BURNLEY

33

2

38

3

READING

49

3

54

3

CHARLTON

31

3

34

3

SHEFFIELD WEDNESDAY

51

1

53

2

DERBY

43

2

51

2

WATFORD

49

2

55

2

DONCASTER

40

2

43

2

WIGAN

41

2

52

2

HUDDERSFIELD

37

2

41

2

YEOVIL

48

1

56

1
Highest and Lowest Attendances

Highest

Lowest

Att

Fixture

Att

Fixture

33,432

LEEDS v BRIGHTON (03/08)

5,530

YEOVIL v BLACKPOOL (03/12)

31,031

LEEDS v BARNSLEY (21/12)

6,053

YEOVIL v CHARLTON (03/12)

30,416

LEICESTER v NOTT'M FOREST (09/11)

6,149

YEOVIL v WIGAN (10/11)

30,367

LEEDS v MIDDLESBROUGH (23/11)

6,293

YEOVIL v BURNLEY (11/01)

30,145

LEEDS v BLACKBURN (01/01)

6,454

DONCASTER v MILLWALL (29/12)

28,282

BRIGHTON v BOURNEMOUTH (01/01)

6,476

YEOVIL v LEICESTER (01/10)

28,276

NOTTINGHAM FOREST v DERBY (28/09)

6,620

DONCASTER v YEOVIL (23/11)

28,070

NOTT'M FOREST v BOURNEMOUTH (19/10)

6,769

DONCASTER v BOURNEMOUTH (31/08)

27,912

BRIGHTON v BLACKBURN (09/11)

6,873

YEOVIL v BRIGHTON (19/10)

27,755

BRIGHTON v NOTTM FOREST (05/10)

7,047

YEOVIL v DERBY (24/08)
The Next Fixtures
Saturday 25th January

BLACKBURN v DERBY

IPSWICH v READING

BLACKPOOL v DONCASTER

LEICESTER v MIDDLESBROUGH